Published: Tue, June 4, 2013 @ 12:04 a.m.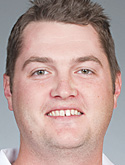 Photo
Staff/wire reports
COLUMBUS
It took 39 holes for Jason Kokrak's U.S. Open hopes to close.
Kokrak was eliminated after the third playoff hole at Monday's qualifier at Brookside Golf & Country Club and The Lakes Golf & Country Club.
The Warren native shot a 4-under 68 on each course and was tied for ninth after 36 holes with 11 other golfers. Since the top 15 earned qualifying spots for next week's tournament at Merion Golf Club in Ardmore, Pa., that left 11 golfers vying for seven openings.
Kokrak made par on the first playoff hole, No. 10, with four golfers (Doug Labelle, Justin Hicks, Ted Potter and Aaron Baddeley) advancing with birdies.
Kokrak again made par on the second playoff hole, No. 18, with Rory Sabbatini and San Moon Bae advancing with birdies. Charlie Wi was eliminated after missing his par putt.
That left four golfers vying for one spot on the third playoff hole, which was back at No. 10. Kokrak hit into a fairway bunker off the tee, then made a nice recovery shot to set up a birdie putt from 18 feet away, which he missed.
Steve Flesch and Mike Weir also missed birdie attempts, but Luke Guthrie drained a 6-footer for the final spot.
Weir earned the first alternate spot and Kokrak is the second alternate.
Kokrak has never competed in a major tournament in his two seasons on the PGA Tour. He would have been the second straight area native to make the Open out of a Columbus qualifier. Last season, Mill Creek golf pro Dennis Miller made a birdie putt on the fourth playoff hole to earn the final qualifying spot.
Charley Hoffman won Monday's qualifier with an 11-under 133.
Hoffman played so badly on the last day at the Memorial that he thought about skipping the tournament.
Hoffman, whose 81 was the worst score in the final round at the Memorial, opened with a 7-under 65 at The Lakes and followed with a 68 at Brookside. The Columbus-area qualifier was filled with several PGA Tour players who had been at Muirfield Village.
"Frankly, I wasn't sure I was going to play in the qualifier," Hoffman said. "I didn't know if I would show up. I had been out six of the last seven weeks. That bad round got me motivated, and Sunday night I decided I didn't want to let that linger."
He qualified for his third U.S. Open.
Josh Teater, Robert Karlsson and Guthrie pulled off an "Open double." All three qualified for the British Open in a 36-hole qualifier two weeks ago, and all three earned a spot in the U.S. Open on Monday.
Sabbatini will be making his 11th trip to the U.S. Open.
"It's very grueling. I'm tired, I'm beat, I'm ready to sit down and do nothing," he said, adding that now he has to figure out a flight plan to get to Memphis for this week's tour event. "I got 4 hours of sleep last night. I had to wait for my clubs to arrive after they were lost. I got them in time, though."