Cruze sales increase by 17.5 percent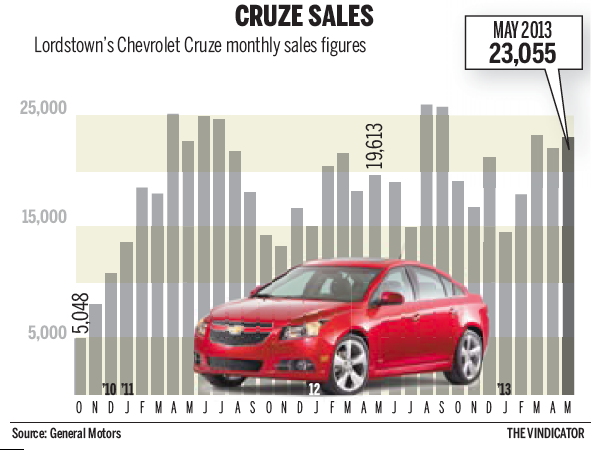 ---
LORDSTOWN
General Motors Co. reported Monday that the Lordstown-built Chevrolet Cruze had its best May sales month since it was introduced in 2010.
The Cruze sold 23,055 units last month for a 17.5 percent year-over-year increase, helping to drive overall sales at GM which were up across all its brands by 3 percent during the same time.
In all, GM reported its highest sales month in May since September 2008.
The company sold 252,894 vehicles last month, beating analysts' expectations and topping Detroit's big-three automakers.
Analysts expected a strong May for the industry after a slightly disappointing April. They forecast a 7 percent increase over May 2012 to about 1.4 million vehicles, putting the industry back on pace for full-year sales of more than 15 million units.
In April, the annualized rate dropped below 15 million for the first time in six months, causing some concern that the industry's recovery could be slowing.
"Cadillac is growing faster than it has in almost 40 years, the pickup rebound is in full swing, and we're seeing strong retail demand for our crossovers," said Kurt McNeil, vice president of U.S. sales operations at GM.
"These are all powerful signs that the gradual recovery in the economy is becoming more broad-based. That's great news for the auto industry and General Motors."
Though May is typically a strong month for auto sales, when Memorial Day promotions and warmer weather bring more consumers to lots across the country, analysts still were surprised by solid domestic numbers among the top automakers.
Strong Chevrolet Spark sales and double-digit increases for the Buick Verano, Chevrolet Sonic and Cruze spurred a 27 percent increase in sales of mini, small and compact cars at GM.
Cruze sales have demonstrated stability since March, selling consistently more than 21,000 each month since then.
May "was a stable increase. If you see a spike one month and a drop the next, that spells trouble for the model and makes it difficult to project sales and production," said Jesse Toprak, an analyst with the automotive information website TrueCar.com. "For the Cruze, stable is exactly what we want, and it's good for the plant, too. Demand is strong for the model and it's not going away."
Toprak said the Cruze's place among the small-car segment, which performed well in May, contributed to sales. He said the model's combination of style, value and technology gives it a formula "that can't go wrong" among consumers looking to buy smaller cars.
"Obviously people are buying our product and showing more confidence in it," said Glen Johnson, president of United Autoworkers Local 1112 at Lordstown.
"They're spreading the word, people are buying it, they're liking it and telling friends and neighbors what a great car it is."
Other highlights for GM last month included a 15 percent increase in truck sales, once again driven by home construction and pent-up demand among consumers and business. Cadillac, meanwhile, recorded its largest year-to-date sales increase since 1976, boosting sales last month by 38 percent since the beginning of the year and making the 110-year old brand the fastest growing major automotive brand in the U.S.
Ford sales rose 14 percent, selling 246,585 vehicles in May, as the F-Series pickup truck rose 31 percent. Other strong sellers included the Ford Fusion sedan, which gained 10 percent, and the Ford Escape, which was up 26 percent.
Chrysler sold 166,596, an increase of 11 percent last month when compared with a year earlier. Ram pickup sales were up 22 percent to 31,672. Jeep Grand Cherokee sales increased 21 percent to 16,034.
Nissan sales gained 25 percent over a year ago. The total of 114,000 set a company record for May. Analysts expected a big month after Nissan cut prices on seven models. Sales of the Altima midsize sedan rose 41 percent, while sales of the redesigned Pathfinder SUV more than quadrupled. Nissan sold 2,100 Leaf electric cars, the best month since the car hit the market two years ago.
Toyota sales rose 2.5 per- cent in May to almost 208,000. The company said warmer weather and excellent Memorial Day sales drove up the total.
The AP contributed to this story.