YSU energy forum focused on improving U.S. economy
---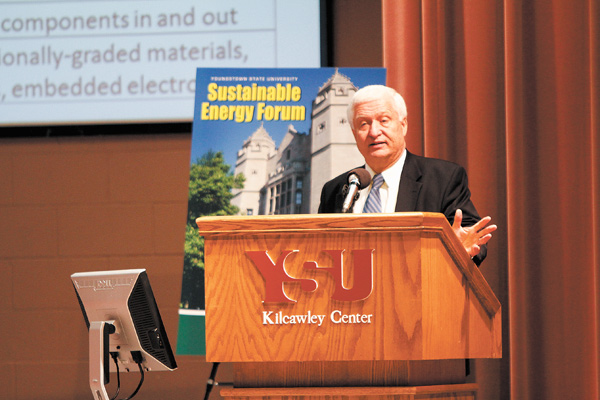 Photo
Ed Morris, director of the National Additive Manufacturing Innovation Institute in Youngstown, discusses the technology and its ability to save private and public industry money at Youngstown State University's Sustainable Energy Forum on Monday.
YOUNGSTOWN
Youngstown is center stage early this week for energy- industry leaders, government officials and educators who have come together for Youngstown State University's annual Sustainable Energy Forum.
The event, which kicked off Monday, will continue today, as officials with the U.S. Department of Energy, NASA's Glenn Research Center, the National Energy Technology Laboratory, and several other prominent organizations traveled to Youngstown for the two-day forum.
Now in its fifth year, the forum is focused on developing technologies that will aid the country's economy in both the near and long term, especially as they relate to improving energy efficiency and cutting costs for manufacturers and multiple industries.
Topics range from the nation's fossil fuel and renewable energy portfolios to advanced manufacturing, the shale gas revolution and harnessing energy from space, among others.
"In the early years of this event, the focus was on solar and wind power, but that has been superseded by things like natural gas and additive manufacturing," said one of the event's organizers, Michael Hripko, who serves as director of the university's science, technology, engineering and mathematics research and technology-based economic development. "It ebbs and flows, and the energy landscape is always shifting."
As domestic oil and gas production continue to increase, thanks in part to development of places such as the Utica Shale here in Ohio and the arrival of the National Additive Manufacturing Innovation Institute in Youngstown last August, the profile of YSU's Sustainable Energy Forum has risen, Hripko said.
About 200 people had reserved seats for the event, which started with a series of presentations about additive manufacturing, a process that uses three-dimensional software to draw up a detailed blueprint from which a specialized machine prints a product layer-by-layer using plastic, metals or resins.
Ed Morris, NAMII's director, said the technology will be instrumental in "the global economic war."
Its ability to decrease energy use, cut costs and materials and mass produce specialized products quicker, he said, will help generate new companies, open up more markets across the globe and increase U.S. GDP in the long-run.
Already, since it first awarded seven projects to its consortium partners in March, about $9.5 million in research and development is underway at NAMII, Morris said.
Kelly Visconti, technology manager at the U.S. Department of Energy's Advanced Manufacturing Office, offered up an example of how additive manufacturing can cut costs for a company.
She said Airbus has used the technology to optimize 120 different brackets its uses in its passenger airliners to attach things such as cabinets, kitchens and lavatories.
In one case, additive manufacturing was able to reduce the weight of one bracket from 12 grams to 0.38 grams and help the company reduce its costs for the item by 50 percent through "lightweighting."
The forum also will focus on educational outreach, collaboration and networking among its attendees, who registered for a price of $25. Students can attend for free.
Robert M. Purgert, an event sponsor and president of Energy Industries of Ohio, who attends each year, said the event's size makes it a perfect setting to meet people and discuss new trends in technology.
He said the forum's goal of cutting costs and increasing efficiencies is essential to Ohio where thousands of manufacturers and businesses are looking to increase profits and cut costs every day.
That, he said, eventually "translates to jobs, which are important to everyone."