136 graduate from Cardinal Mooney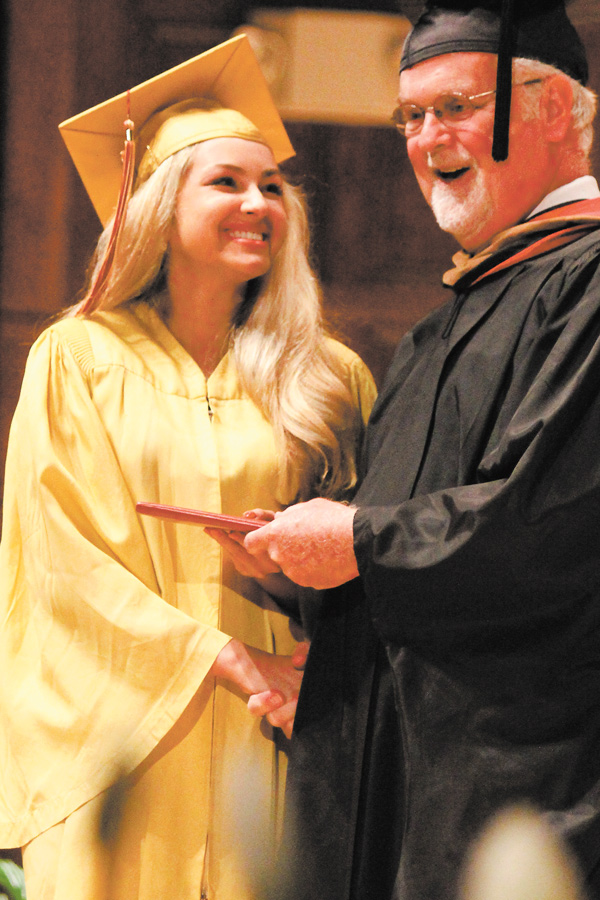 ---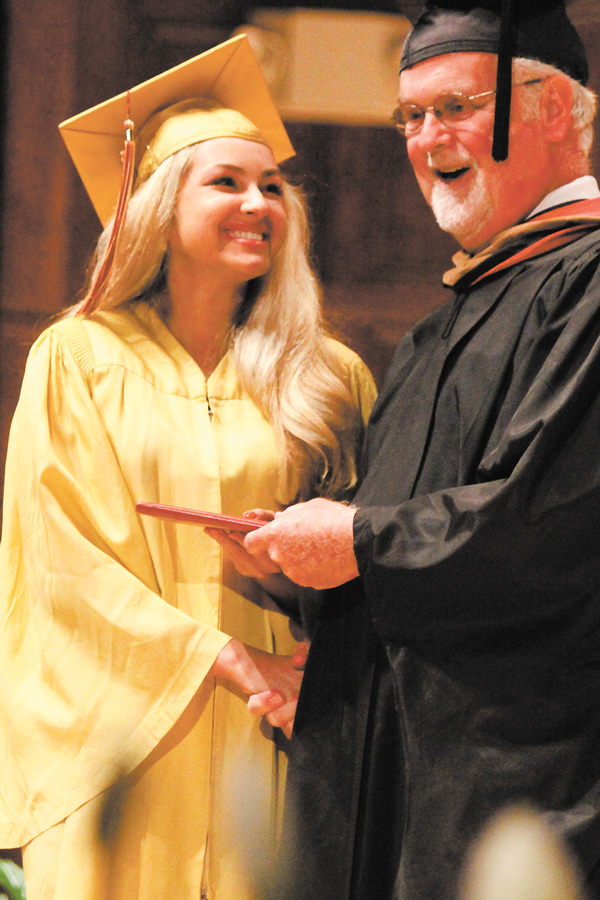 Photo
Sabrina Saadey smiles at Cardinal Mooney High School Principal John Young as she receives her diploma at Sunday's Stambaugh Auditorium commencement. Saadey was one of 136 seniors to graduate from the Roman Catholic high school.
By Bob Jackson
YOUNGSTOWN
Even though they once passed themselves off as the Hatfields and McCoys, there's no family feuding going on between Dave and Bryan Whipkey.
The 19-year-old twin brothers from Poland were among the 136 members of Cardinal Mooney High School's Class of 2013, which graduated during commencement ceremonies Sunday at Stambaugh Auditorium.
"Looking back, I couldn't have done it without him," Dave said of his twin.
The Whipkeys, who share the same middle name, Colmenarers, said they share a close bond, and both enjoyed their four years at Mooney, where they played together on the lacrosse team.
They also took advantage of their likeness to pull good-natured pranks on the school's faculty from time to time. They recalled one such day during Spirit Week, when the brothers went to school dressed as characters from the famously feuding Hatfields and McCoys.
During second-period classes, they switched places and each pretended to be the other. Their teachers, they said, didn't notice.
"He went in and did a project for me, and I took a test for him," said Bryan, who couldn't quite recall whether he'd scored a D or a C on the test, for which his brother got credit.
"It wasn't an A; I do know that," Dave said, laughing.
Come fall, the brothers will go their separate ways to further their educations — Dave will enter the pre-med program at John Carroll University in Cleveland, while Bryan will study economics and finance at Washington & Jefferson College in Washington, Pa.
"It's going to be weird," Bryan said of going it alone without his brother.
But they'll keep in touch via text messaging and emails. Oh, and they'll also be meeting on the lacrosse field. Each plans to play on his new school's team, which just to happen to play each other next year.
Chris and George Brandenstein, 18, are also identical twins and were among the graduates.
Unlike the Whipkeys, the Brandensteins said they never pulled the switcheroo on their teachers. Still, they had a good four-year run at Mooney, and George said graduation was a sad day because it means leaving high school and all its fun behind.
Like the Whipkeys, Chris and George were athletes while at Mooney. Chris played football, and sported his state championship ring Sunday, while George played basketball. Neither plans to participate in sports at Kent State University, where they'll attend in the fall.
Their sister, Kaitlin, also a Mooney grad, already goes to Kent. Their mom, Sue, also is a Mooney alum and works in the office at the school.
"We're the last ones" from the family to graduate from Mooney, Chris said.
Gianna Parella of Canfield, 17, co-valedictorian, said she will attend the Massachussetts Institute of Technology in the fall, where she'll study chemical engineering.
"I always liked chemistry, but not so much the laboratory end of it," she said, explaining that she hopes to one day work in the petroleum industry. With the oil and gas industry about to boom locally, she said returning home to work is always an option, although she's prepared to go wherever her career path takes her.
"I'm nervous today because I'm the oldest, the first [child] in my family to graduate high school," Parella said.
She has three younger siblings, one of whom attends rival Ursuline High School.
"We joke and tease each other about it, but it's all in fun," she said.
Corey Jenkins of Youngstown, 19, also said he was nervous Sunday.
"When we did practice, I was the first one called up on the stage," he said, laughing. "I don't want to be the first one up there and the first one to mess up graduation."
Jenkins said he will study telecommunications at Youngstown State University, largely because of a scholarship he received through Walmart. His mom, Kristen Unger, works at the chain's Boardman store, which is what qualified him for the $13,000 scholarship, spread out over four years.
"I went on a field trip once to [television station] WFMJ, and I fell in love with it," he said. "I would have no problem staying in town and working there."
"This was an extremely cooperative class," Principal John Young said of the graduating seniors. "They were active in the community and very involved in volunteerism."
He said the students, on their own, collected $500 among themselves after the recent tornadoes that devastated Oklahoma, with the money sent to assist in relief efforts. They made a similar donation last year after Hurricane Sandy tore through New Jersey, he said.
The speaker was Kathy Stoops, a 1976 Mooney graduate who is now principal of Holy Family School in Poland. She encouraged the students to be lifelong learners.
"I am a total believer of being a good steward of the gifts God has given you," she said. "Use the gifts you have been given wisely. Develop them. It takes work."