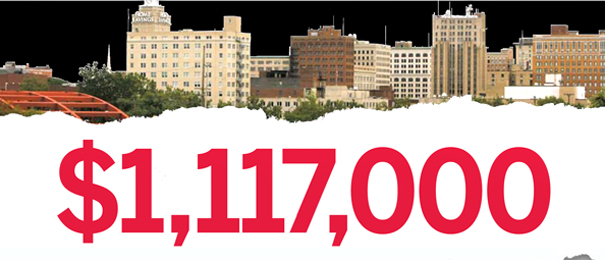 ---
By DAVID SKOLNICK | skolnick@vindy.com
YOUNGSTOWN
The highly touted Youngstown 2010 Citywide Plan that received international attention as a blueprint to revitalize industrial cities isn't gathering dust in Mayor Charles Sammarone's office.
That's because the $300,000 plan, approved by city council in 2005, is nowhere to be found in the mayor's office.
While some of the Youngstown 2010 recommendations were implemented — mostly efforts to revitalize downtown and connect it to Youngstown State University, and increase the number of demolitions of vacant houses in neighborhoods — the 150-page plan largely has been abandoned.
"I don't use the 2010 plan," Sammarone said. "I don't agree with downsizing the city, which is the basis of the plan. All it did was kind of reinforce what we already knew — code enforcement was weak, and we needed more demolition. But there wasn't an implementation process so most of it wasn't done."
Bill D'Avignon, the city's Community Development Agency director and one of the six members of the Youngstown 2010 planning team, defends the study developed during Mayor George M. McKelvey's
administration.
"It was money well spent," D'Avignon said. "The basis of the plan is still relevant today. We're removing blight, and we changed the image of downtown. We're losing population and have to adjust how we do things to better use resources."
Since 2005, Youngstown spent $1,117,000 — all funded with city tax dollars save for $300,000, which was funded by state or federal tax dollars — on five key studies and an updated zoning code. The latter was one of the recommendations of the Youngstown 2010 plan.
"There's been many studies around this building [city hall] for the past 50 years," Sammarone said. "The studies needed to be implemented, but that component wasn't required in any of them."
That's a big problem, said Sam Gresham, chairman of Common Cause Ohio, a statewide nonpartisan, nonprofit good-government
advocacy organization.
"Constantly making studies and not making decisions is a waste of time and money," said Gresham, whose background is in urban and regional planning, including serving as the head of the Columbus Urban League and as a member of the Committee for the Master Plan for the City of Columbus.
"The city of Youngstown can't constantly waste money on studies because it doesn't have it," he said. "A study sometimes validates what you want, but multiple studies on an issue and no decision is a waste."
"If you're looking for a plan, it's not a waste. But if you don't implement it, then it is a waste," Sammarone said.
Sammarone and city council agreed a few weeks ago to spend up to $200,000 annually to hire a firm to handle city planning including what needs to be done downtown, the major corridors and in the neighborhoods — all major focuses of the 2010 plan.
The city has been without a planner since March 2009 and opted to seek a firm to handle those responsibilities rather than hire an employee.
OTHER STUDIES
Youngstown 2010 isn't alone when it comes to city-paid studies that aren't being used. Two water studies from the Mayor Jay Williams administration have been pushed aside.
The most controversial study commissioned by the city in the past decade is the Joint Economic Development District water report.
The $100,000 report, which took two years to complete by the PFM Group's
Cleveland office, recommended imposing a 2 percent to 2.25 percent income tax on those who work in Austintown and Boardman, and receive city water.
The 50-page report — obtained in March 2008 by The Vindicator in "draft" form and released two months later by the city without changes — contended the three communities would collect $439 million over a 20-year period with Youngstown receiving $181 million of that figure.
Williams said at the time that the plan provided revenue sharing with the townships and a reduction of the water surcharge from 40 percent to 20 percent.
But it was never implemented after strong objections from officials in the two townships because it would tax existing businesses there. Sammarone, city council president at the time, said he also opposes taxing existing businesses.
"I'm for new businesses being taxed" in the townships in exchange for city utilities "if it makes sense," he said.
"Before they went out with that study, there should have been discussions on what was going to be done," he added
After that plan, the city paid $167,000 to PFM Group's Cleveland office for a study that looked to expand Youngstown's water system into Campbell and Struthers and its overall water-distribution system.
In late 2010, about two years after it began, the study determined the city could provide water to Campbell and Struthers, but the two communities opted to not move ahead.
"We put together outlines for regionalization of water, and we were unable to accomplish that," said Youngstown Finance Director David Bozanich.
But the $267,000 investment in both studies had some benefits.
The studies led to the city discussing and then agreeing to a no-compete deal in June 2011 with Aqua Ohio, a water company that officials with Austintown, Boardman and Canfield had talked to about the possible purchase of bulk water. That eliminated the potential for competition.
"The major accomplishment is the mutual agreement with Aqua Ohio," Bozanich said.
The studies did little else.
Bozanich said the studies gave Youngstown "insight into annexing property" and other issues related to the $1.1 billion expansion of Vallourec Star [formerly V&M Star] on property in Youngstown and primarily in Girard.
STUDIES UNDER SAMMARONE
Since Sammarone became mayor in August 2011, the city has had two significant studies.
The first, called "The Youngstown Plan," was done for $250,000 by PFM Group's office in Chattanooga, Tenn., with the city paying $150,000 and the U.S. Department of Housing and Urban Development and the Raymond John Wean Foundation each giving $50,000.
The report was finished in September 2012 and has more than 50 recommendations to overhaul city government operations.
The second was a $50,000 Covelli Centre Operational Assessment done by PA Sports & Entertainment of Downingtown, Pa., of the Covelli Centre. That report was finished in January.
The city also is looking to hire a firm to conduct a comprehensive plan for its park system.
The city's Park and Recreation Commission will seek proposals, but city council still needs to authorize payment of a study after the commission selects a firm.
The Youngstown Plan paid for itself before it was finished. A PFM official last summer recommended the city seek competitive proposals from banks on the interest it pays for the $11.9 million it borrowed in 2005 to pay its portion of the $45 million Covelli Centre.
The city saw the annual interest rate decline from $579,925 in 2011 to $113,250 in 2012.
The 251-page plan, an examination of all city operations, reinforced several policies Sammarone has put in place since he became mayor in August 2011.
That includes not hiring new employees to replace those who retire unless the positions are essential, greater accountability from city employees through time clocks and GPS systems in city-owned vehicles.
It also recommended the elimination of a Youngstown Municipal Court judicial seat, an effort that already was in the works and eventually approved by the state Legislature.
The study recommended seeking proposals to sell or lease the Covelli Centre — the PA Sports study recommended that not be done. The city sought proposals asking $15 million to buy the center or $700,000 annually to lease it. The city received no proposals.
"Sometimes a plan may be good to reinforce ideas you have," Sammarone said.
A handful of other recommendations from The Youngstown Plan are being used such as having performance-based reviews of department heads, and
reducing the expense of incarcerating prisoners charged with less serious offenses.
SUGGESTIONS ON BACK BURNER
But some of the major recommendations haven't been implemented, and with less than seven months left on his term, Sammarone said he's going to let the next mayor make decisions on what should be done.
The major recommendations include creating the position of a chief administrative office to manage day-to-day operations, developing a multiyear capital budget, centralizing administrative responsibilities in one department, consolidating emergency 911 services with Mahoning County, eliminating the job of clerk of courts, establishing a 311 call center, increasing employees' share of health-insurance premiums from 10 percent to 15 percent, and creating a position of chief information officer.
"This study isn't meant to be implemented in a few months," Sammarone said. "It's for five to 10 years to make the city more accountable and efficient."
This plan is somewhat familiar to a January 2000 performance audit, conducted by the Ohio auditor's office at no cost because Youngstown was in state fiscal watch when the audit began in October 1998.
Among the 300-plus recommendations in that 542-page report were using better business practices and controls, creating a comprehensive strategic plan and reducing staffing levels.
The state audit didn't address the police and fire departments while The Youngstown Plan does.
It took several years, but some of the suggestions in the performance audit were adopted by the city including contracting with a firm to collect income taxes, increasing the employees' share of health-insurance premiums from nothing to 10 percent and reducing staff.
While the city didn't follow the advice in the 19-page Covelli Centre study to not attempt to lease or sell the facility, some of the other recommendations will be implemented if city council approves a five-year contract extension at its Wednesday meeting with JAC Management Group to manage the center.
That includes a yearly audit, which has happened the past two years, having JAC provide financial information to city officials every month rather than quarterly, and a 25-cent fee on every ticket sold for events at the center to create a capital-improvement fund.
More like this from vindy.com