Stroneys mark 60th milestone during luncheon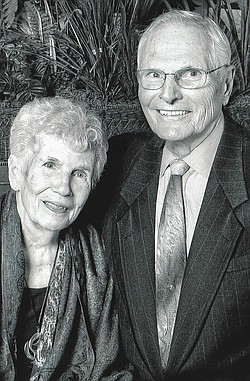 Photo
Mr. and Mrs. John Stroney
YOUNGSTOWN
In celebration of their parents' 60th wedding anniversary, the children of John and Dorothy Stroney hosted a luncheon in their honor at 1 p.m. April 14.
The Stroneys, of Youngstown, celebrated at Caff Capri in Boardman.
The children and their spouses are Leonard (Marilou) Stroney and Bruce (Deanna) Stroney, all of Boardman; and Matthew (Ann Marie) Stroney of Ellsworth. The Stroneys have two grandchildren and two great-grandchildren.
Mrs. Stroney, the former Dorothy Skidmore, worked as an operator for Ohio Bell Telephone Co. She is a member of the Infant Jesus of Prague Guild at St. Christine Church, where she and her husband are members.
Mr. Stroney retired in 1986 as an assistant manager for Ohio Bell. He is a member of Telephone Pioneers, Boy Scouts of America and Seabee Veterans. He served in the U.S. Navy Seabees during World War II.
The Stroneys were married April 6, 1953, at St. Brendan Church.