Langley-Laird wedding plans set for August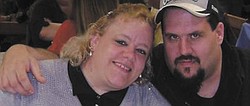 Photo
Neva L. Langley and Nicholas L. Laird
SHARPSVILLE, PA.
Neva Lynn Langley of Sharpsville is announcing her engagement to Nicholas L. Laird, also of Sharpsville.
Linda Langley of Hubbard is mother of the bride-elect, and the late Russell L. Langley is her father.
Cheryl Blair of Greenville, Pa., is the mother of the future groom.
Grace Chapel Community Church, Hermitage, Pa., will be the location of the 2 p.m. Aug. 3 open wedding.
Invitations will be extended for a reception to follow at North Sharon Fire Hall, Sharon, Pa.
The future bride received a degree in hospitality services from Trumbull County Career and Technical Center and is a cook for Countryside Nursing Home in Mercer, Pa.
Her fiancé is a material handler for Mercer Forge Plant 2 in Wheatland, Pa.