Jenna Sympson, Billy Markowitz to wed in October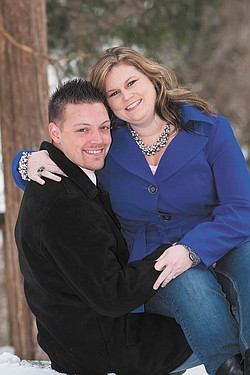 Photo
Billy Markowitz and Jenna Sympson
ST. PETERSBURG, FLA.
Bill and Janice Markowitz of St. Petersburg, Fla., are announcing the engagement of their son, Billy Markowitz of Louisville, Ky., formerly of Girard, to Jenna Sympson of Louisville.
The bride-elect's parents are Scott and Tina Sympson of Bardstown, Ky.
The couple will exchange vows at 4 p.m. Oct. 19 at St. Michael Church in Fairfield, Ky.
An evening reception will follow at the Basilica of St. Joseph Proto-Cathedral Fellowship Hall in Bardstown. Invitations will be issued for both.
The bride-elect earned a bachelor's degree in accounting from Bellarmine University in Louisville. She is a business consultant at Humana Inc. in Louisville.
The prospective groom received a bachelor's degree in sport management from Ohio Dominican University in Columbus. He is a sales agent at Pet First Healthcare in Jeffersonville, Ind.