Emilie Ridge, Micah Delo are engaged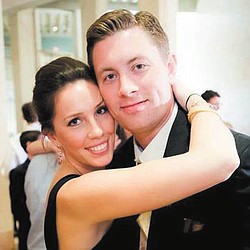 Photo
Emilie B. Ridge and Micah J. Delo
POLAND
James and Gayle Ridge of Poland are announcing the engagement of their daughter, Emilie Bryan Ridge, and Micah John Delo, both of Pittsburgh.
Parents of the future groom are David and Kathy Delo of Ambridge, Pa.
The couple are planning a Sept. 7 wedding at First Presbyterian Church of Pittsburgh.
A reception will follow at Shannopin Country Club, Ben Avon, Pa.
The bride-elect earned a bachelor's degree from Ohio State University and a juris doctor degree from Duquesne University School of Law. She is an attorney for Tucker Arensberg, P.C., of Pittsburgh.
Her fianc graduated from Westminster College. He is a financial adviser for Delo Financial Group, Pittsburgh.