Damaged concrete bleachers at South High Fieldhouse to be demolished
---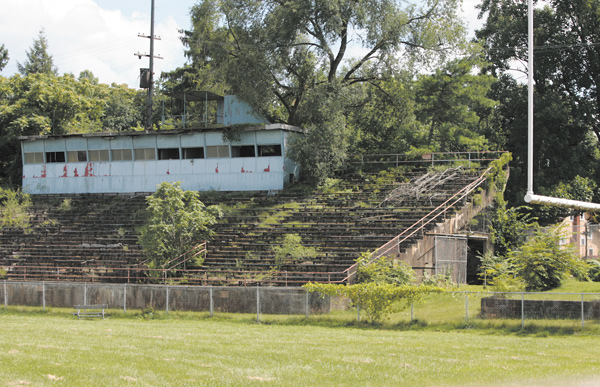 Photo
The concrete bleachers at the South High Fieldhouse football field are falling apart and will be demolished in the fall.
YOUNGSTOWN
A Cleveland company submitted the apparent low proposal to demolish the dilapidated concrete bleachers at the South High Fieldhouse football field, the location of a murder during a youth football game.
Three companies turned in proposals for the work that were opened Monday by the city. B&B Wrecking & Excavating of Cleveland has the lowest offer of $97,000. The city's estimate for the work was $150,000.
The board of control is expected to award the contract to B&B in the next few weeks with the demolition work taking about 60 days to finish, said Kedar Bhide, construction engineer at the city's public works department.
The concrete bleachers at the stadium are in bad shape and have become a "safety issue," said Robert Burke, the city's park and recreation director, and have become a home for raccoons. Metal bleachers at the field will remain.
The field's bleachers were the location of an Aug. 19, 2006, murder in which Anthony Caulton shot to death Larry D. Jones during a pee-wee football game in front of hundreds of spectators.
A judge commented in August 2009, when he sentenced Caulton to 18 years to life, that it was a "sad comment" that only two people came forward as witnesses against the murderer.
Meanwhile, the city has an offer of $100 from White Hat Management of Akron, which runs the Southside Academy charter school adjacent to the facility, to purchase the fieldhouse and stadium, said Burke and Law Director Anthony Farris.
The indoor fieldhouse, which has a full basketball court, needs roof repairs or its interior will be damaged, Farris said.
The estimated cost of repairing the indoor fieldhouse is about $250,000, and it would cost about $500,000 to demolish, city officials say.
The city doesn't use the fieldhouse or the football field, and it costs about $20,000 annually for utilities at the indoor facility, Farris said. The city was spending about $150,000 annually to operate the fieldhouse and stadium until it "mothballed it" a few years ago, he said.
"It's best to give it to a company that can use it," Burke said. "It would be great for the community to sell this and let [White Hat] use it."
The city's park and recreation commission agreed last week to recommend the city sell the 5.7-acre complex. City council would need to pass legislation to sell the property on Erie Street on the South Side.
Eagle Heights Academy, Southside Academy's predecessor, had offered to buy the complex for $200,000 in 2008, but the deal was never finalized.
"It will cost at least that much to make the fieldhouse useful," Farris said. "It's sitting there, and if nothing is done, it will deteriorate."