Trumbull Art Gallery to refurbish North Park Avenue building for gallery space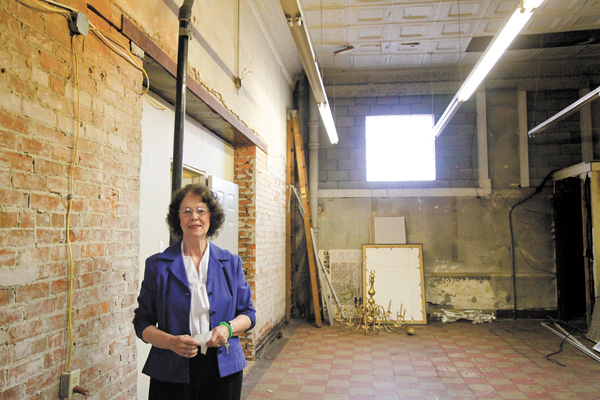 ---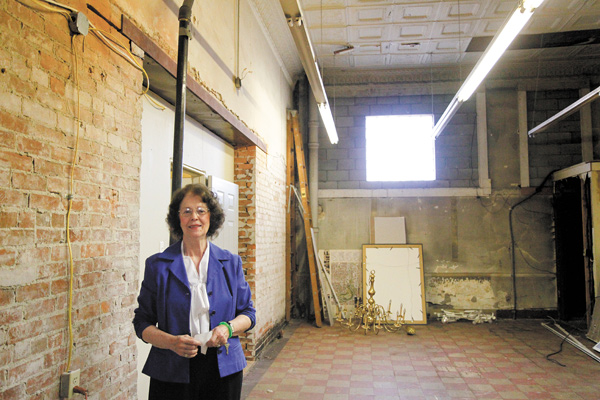 Photo
Pat Galgozy, executive director of Trumbull Art Gallery, shows off the brickwork and tin ceiling at the gallery's new location on North Park Avenue in downtown Warren.
By Lee Murray
TheNewsOutlet.org
Warren
Pat Galgozy treads carefully between piles of splintered studs and drywall. Overhead is ornate crown molding that has been hidden for years.
Behind decades of cheap repairs are the original features of the old building at 154-156 N. Park Ave. that Trumbull Art Gallery will restore and move into, after it closes its current 196-198 E. Market St. location Sept. 1.
"You have to look past all of that," said Galgozy, TAG's executive director and driving force behind the relocation. "It can be hard if you don't have a lot of vision. But I do. I love old buildings."
Much of the work will involve careful demolition and restoration.
"This is all going back to the brick," Galgozy said, running a hand across a wall. "The ceiling will be repaired and restored back to the original state, cleaned off like I saw in Architectural Digest."
Trumbull Art Gallery has been operating in Warren for 57 years. It has been at the East Market Street location for the past decade, but negotiations over the current lease has caused TAG to look at other options, such as this former shoe store and gift shop on North Park Avenue.
"We negotiated for almost a year," Galgozy said. The owner of TAG's current location had asked it to pay more for the same space, but the nonprofit gallery could not afford the new term, she said.
"We wanted to stay there but we couldn't," Galgozy added. "It finally got to the point where one of our board members said we might get this space. We had to move on it soon."
Galgozy added that the new location, on Courthouse Square and overlooking the historic court building and park, has more foot traffic from local businesses and from the hotel next door. She said that the owner of the building is happy to have an art gallery moving in.
"The rent is being negotiated still but it's considerably less," she said, noting that TAG is not paying rent during the restoration project.
The TAG Annual is a juried exhibition that the gallery hosts every year. The gallery normally accepts about 200 entries from all over Northeast Ohio. The exhibition, which is running now, will be the last show in the old space.
Galgozy estimates that the new location will open before the holidays, although there is a lot of building work needed to get the gallery open by Christmas. The budget remains flexible, Galgozy said, because of a deep pool of volunteers donating their time and expertise. She estimates that there could be as many as 80 people working on the project.
"We don't know [how much it will cost]," Galgozy said. "We really don't. But with his help of board members, volunteers, and other people giving donations to help the arts, we will have fundraising to pay for some of it too."
TAG is entirely donation funded, and its gift shop brings in much of that money. Donations in the form of saleable art from Huntington Bank will help raise funds too. A numbered and signed Norman Rockwell print may be sold to help out with costs, Galgozy said.
The current location has rooms available for classes and events. There will be room for activities like that in the new building's 4,500- square-foot basement. Such programs are important, Galgozy said, because they involve the community and bring people together.
"Everyone feels that the arts are an important part of communities now," she said. "There's a big interest in young people who want to live down here and be a part of what's going on."
Galgozy said that at the moment she works at the gallery seven days a week.
"I'm so enthused about it, I just live it," she said.
Although she's expressed excitement over the move, other long-time TAG members are more reticent.
"There are some people who have been involved for a very long time —artists, board members — that probably are disappointed," she said. "Maybe they're having a hard time with it."
Information about TAG's current show can be found at trumbullartgallery.com.
TheNewsOutlet.org is a collaborative effort among the Youngstown State University journalism program, Kent State University, University of Akron and professional media outlets WYSU-FM Radio, The Vindicator, The Beacon Journal and Rubber City Radio, both of Akron.