YSU football picked fifth in MVFC preseason poll
---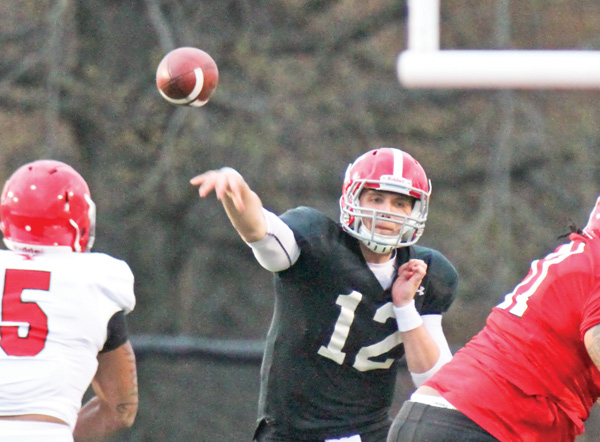 Photo
Youngstown State quarterback Kurt Hess earned preseason honorable mention all-conference on Monday.
Penguins picked to finish fifth in 10-team Missouri Valley
By Joe Scalzo
YOUNGSTOWN
The Missouri Valley Football Conference's coaches and reporters took one look at Youngstown State's football team and came to this conclusion: Meh.
After finishing .500 in the league for the last two seasons, Valley voters predicted more of the same for the Penguins, who were picked fifth out of 10 teams in the league's preseason poll.
The Vindicator voted YSU third.
Two-time defending national champion North Dakota State was the unanimous choice to repeat, earning all 39 first-place votes from the league's coaches, media and sports information directors. The Bison return 18 starters from last year's 14-1 team.
Senior center Chris Elkins — the only Penguin to earn first team all-conference honors last season — was the only YSU player to make the preseason first team, while senior quarterback Kurt Hess earned honorable mention. Both are entering their fourth seasons as starters.
"I think it's always nice when you have your starting quarterback back," YSU coach Eric Wolford said. "We have high expectations here for Kurt. All indications are he's had a great summer and he's really taken this offense and held people accountable across the board.
"Elkins has played a lot of football for us and he's one of those guys who's just a hard worker. He doesn't say too much. He just leads by example."
The Penguins lost eight starters to graduation, including do-everything running back Jamaine Cook, but Wolford believes his team has a lot of talent, if not a lot of big names.
"I feel pretty good about where our team is," said Wolford, whose team reports Wednesday and has its first practice on Thursday.
"We're excited to get started."
The Penguins return 40 lettermen from last year's 7-4 team, a number that doesn't include wide receiver Jelani Berassa, who missed last season with an ACL tear. Berassa, one of the team's leading receivers in 2011, sat out spring practice but is at 90 percent entering training camp, Wolford said.
"He has a chance to be an impact player," Wolford said of Berassa.
"I feel good about our mismatches at receiver. We have a group of receivers that are as good as anywhere I've been and that's a pretty strong statement."
Wolford is also high on his offensive line, which returns just two starters: Elkins and senior Kyle Bryant, who filled in for Andrew Radakovich in the second half of last season.
"Obviously, I'm an offensive lineman by trade and that's where my passion is," said Wolford, who played collegiately at Kansas State. "Those guys had a great spring. They're big, they're strong, they're fast and a couple them are going to be pro prospects.
"Even though we may not have quite as much experience [on the line] as in years past, I feel like athletically and potentially they can be a better group."
Defensively, YSU returns all three starting linebackers (juniors Travis and Teven Williams and senior Dom Rich) and three of its four starters in the secondary (cornerbacks Julius Childs and Dale Peterman and safety Donald D'Alesio).
Wolford dipped into the junior college ranks to fill some holes on the defensive line — defensive end Kyle Sirl, a senior, is the only returnee — where he expects incoming DT Octavius Brown to be an impact player.
The Penguins begin their season at home against Dayton on Aug. 29. YSU hasn't been to the playoffs since 2006, but the schedule sets up nicely for the Penguins to make a run.
They play three of the MVFC's preseason top four teams at home: No. 1 (NDSU), No. 2 (South Dakota State) and No. 4 (Illinois State). Only No. 3 Northern Iowa is a road game.