Protests in Warren bring out both sides of fracking debate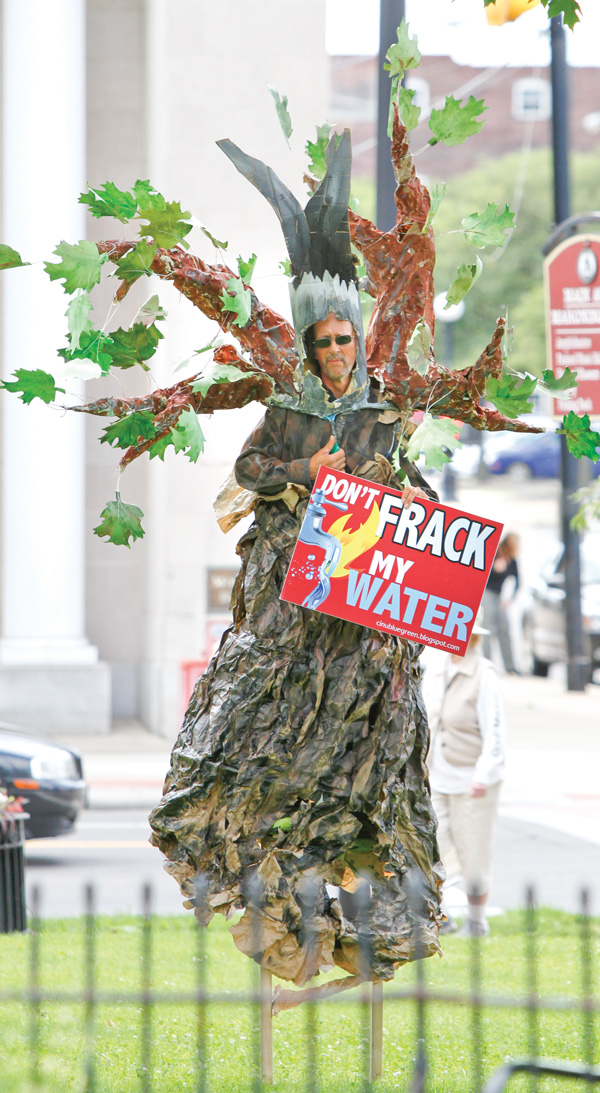 ---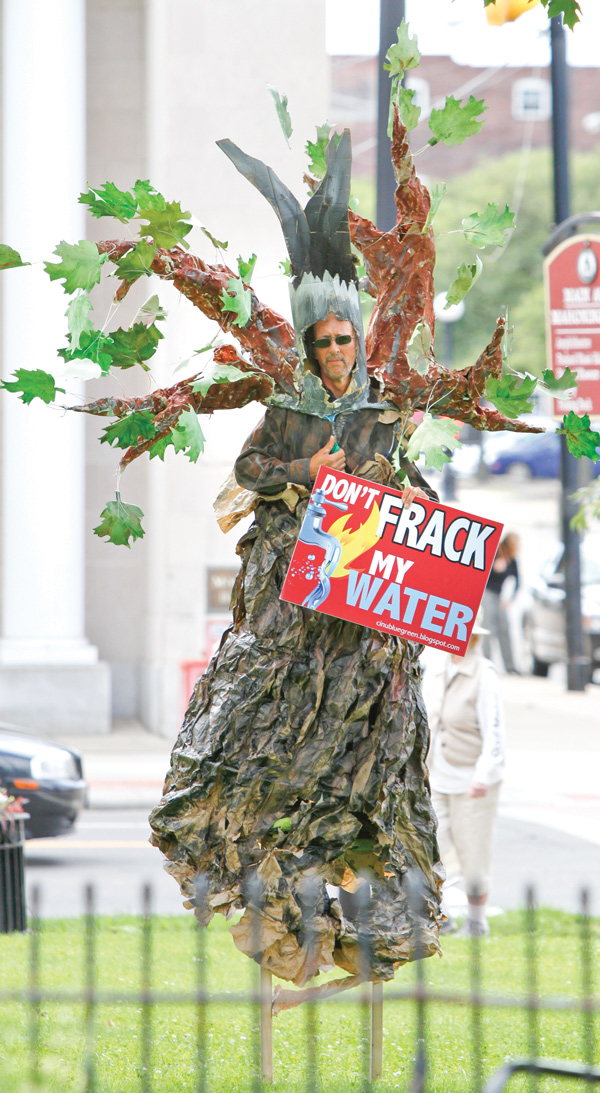 Photo
More than 200 people attended a "Don't Frack Ohio" rally Monday in Courthouse Square in Warren. Some participants decided to show their opposition to the oil-and-gas industry operations in Ohio by dressing up in costumes, including Jim Jewel of Kent, who dressed as a tree and stood on stilts.
Warren
The gulf in public opinion was in plain view Monday as opponents and supporters of the state's oil and gas industry had simultaneous demonstrations in the city's downtown.
Don't Frack Ohio, a coalition of local, state and national groups opposed to hydraulic fracturing, or fracking, attracted about 200 participants to what organizers believe is one of Northeast Ohio's largest anti-fracking rallies to date.
At the same time, the Mahoning Valley Coalition for job growth, welcomed business, labor and political leaders to show support for oil and gas during a counterprotest.
Last year, Don't Frack Ohio descended on Columbus to voice dissatisfaction for an industry they say is destroying Ohio's natural beauty to reap handsome profits that don't benefit many residents. Sam Rubin, a spokesman for the group, said coalition members believe lawmakers in Columbus have turned a blind eye to their concerns, leading them to Warren to make a plea for action among those directly impacted by the industry.
The day's event featured music, informational booths and lively costumes — including some dressed in hazmat suits and one protester cloaked head-to-toe in a tree costume. Event organizers and speakers claimed the oil and gas industry is out only for "big money."
"Not only is this fight essential for communities in Ohio — and a reasonably sensible one — but it's also absolutely essential to the future of this planet," said Bill McKibben an environmental activist and co-founder of the participating organization 350.org. "It's a fight in which you have many allies."
McKibben, on a nationwide tour to speak against the fossil fuel industry, spoke of taking "citizenry back" and continuing to build grass roots opposition in pockets across the country. He added that climate change is evidence of the fossil fuel industries' disregard for the health and well-being of the American public.
As McKibben spoke, though, air horns could be heard from the streets surrounding the stage, as members of several local construction unions worked to drown out speakers on the stage and rally support for an industry they believe is lifting Ohio up by creating jobs and economic opportunities.
"The shale industry is subsidizing the future of the Mahoning Valley," said Eric Planey, vice president of international business attraction for the Youngstown-Warren Regional Chamber.
"Oil and gas exploration and production are fueling economic growth and momentum in this region and making the Mahoning Valley a 'Rust-Belt-to-Tech-Belt' success story."
Planey, and Don Crane, president of the Western Reserve Building & Construction Trades Council, rattled off a series of investments from the oil and gas industry that they say is proof of its commitment to the region, including multimillion-dollar projects at Exterran, Vallourec Starr, TMK/IPSCO in Brookfield, pipelines and processing facilities.
Planey and others were joined by Warren Mayor Doug Franklin who spoke in support of the oil and gas industry at a counter-protest that drew about 80 people.
"We'd have more people here, but a lot of my guys are working on oil and gas related projects," Crane said.
Just across the street, those opposed to the industry said something needs to be done to stop the influx of fracking waste — which contains naturally occurring radioactive metals — that is disposed in the state each day.
Teresa Mills, field director for the Ohio office of the Center for Health, Environment & Justice, rolled out a sign that showed 7.8 billion barrels (42 gallons per barrel) of fracking waste has been injected in Ohio since the oil and gas industry began drilling here decades ago.
She said those figures came from the Ohio Department of Natural Resources. In February, ODNR director James Zehringer testified before state lawmakers, saying that more than 202 million barrels of fracking waste have been injected at underground wells since 1983 when the state earned primacy in regulating and overseeing those wells.
Chester Paskin, who drove to the rally from Cleveland where he lives, said regardless of any opposing viewpoints or science involved in the ongoing debate, he's concerned about the mounting power of oil and gas companies and the industry's efforts to lobby lawmakers in Washington, D.C.