Campbell nonprofit aims to preserve, revive Sheet & Tube housing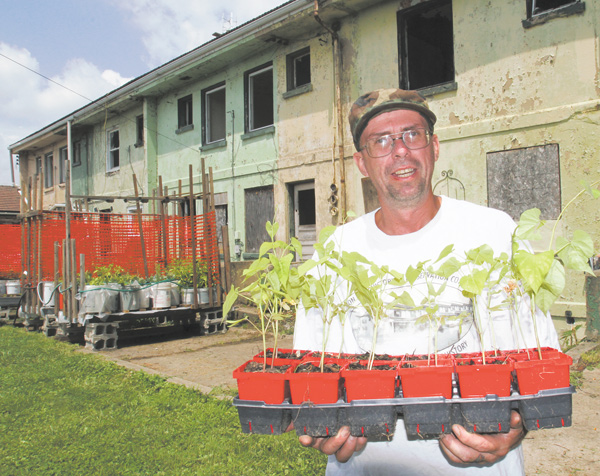 ---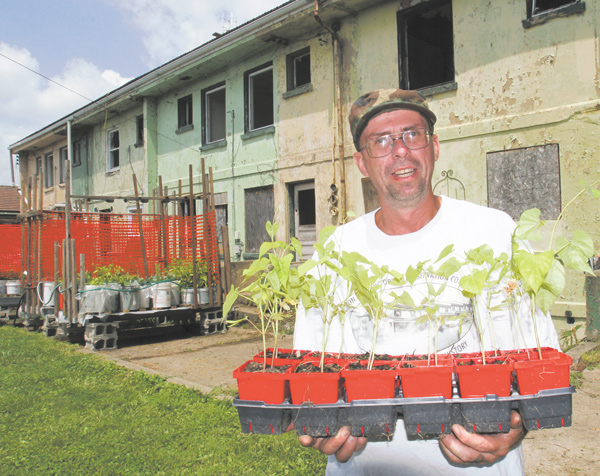 Photo
Tim Sokoloff , founder and president of the Iron Soup Historical Preservation Co., holds a flat of vegetables growing at the nonprofit organization's grant-funded garden near former Youngstown Sheet & Tube Co. housing in Campbell. Iron Soup plans to preserve and revive the housing units, mainly through the use of "green" technologies.
By EMMALEE C. TORISK
CAMPBELL
Tim Sokoloff's vision involves the creation of a self-sustaining community in the very place where modern living began: the former Youngstown Sheet & Tube Co. housing.
But funding — and a decent amount of it — is required for the Iron Soup Historical Preservation Co., which Sokoloff leads, to both preserve and revive the 179 remaining one- and two-bedroom, two-floor units built in 1918 to house steel-mill workers and their families.
"It's all about funding," he said, adding that Iron Soup's time line is based entirely on finances. "You can't do anything without it."
Previously, Iron Soup, which has federal and state nonprofit status, had existed solely on donations and fundraisers.
In May, though, the group received its first grant: the Mahoning River People's Garden Grant, which was awarded by the Youngstown Neighborhood Development Corp.
The $3,000 grant since has been used to fund Iron Soup's Watch Our Garden Grow project, which includes wind turbines, LED lighting, a 24-hour grow cam, and solar panels, Sokoloff said.
In addition, the garden itself, which is on Andrews and Delmar avenues, features an assortment of plants, such as broccoli, potatoes and watermelon. Neighboring structures, many of which show obvious signs of years of neglect, soon will be covered with morning glories, helping to hide the blight.
"We said, 'If you give us money, we can go above and beyond the call,'" he said, adding that, when possible, the grant money was spent locally. "The system here is special."
The system is unique, he said, because though the project requires a considerable amount of power, Iron Soup isn't "paying a dime" for it.
What is key is the combination of solar and wind power, which Sokoloff is hopeful will power the entire housing complex one day.
At one time, the complex, which consists of about 6 acres of concrete row houses and is listed on the National Register of Historic Places, had approximately 350 residents, he said.
Its population, however, has since dropped to no more than 50, Sokoloff included, and the structures — which at one time "epitomized America's power in the world at the dawn of the Industrial Revolution" — have become run down.
Iron Soup and its mission, though, is "slowly but surely gaining momentum," he said.
"It's not like we're saying we have this magical dream of fairies and elves," Sokoloff said. "People will come to see a beautiful, historical site."
Liberty Merrill, Youngstown Neighborhood Development Corp. senior program coordinator, said projects were chosen based on innovative design, community impact, project sustainability and potential for community environmental education.
Iron Soup's Watch Our Garden Grow project, Merrill said, was an especially strong candidate, since it had "a committed group of people already working on it."
"The Iron Soup project is pretty interesting and innovative," Merrill said. "The YNDC was glad to help out."