Dinner uses local produce, aids UW
---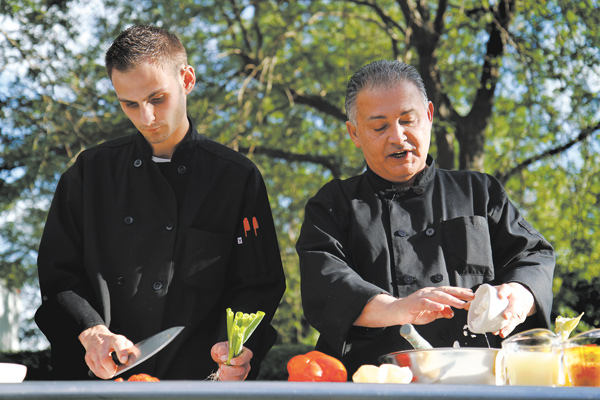 Photo
Devlin, left, and Ross Scianna of Antone's Italian Grille perform a cooking demonstration during the second annual Farm to Fork event Sunday at White House Fruit Farm in Canfield.
By Sean Barron
CANFIELD
Many cities, towns and communities nationwide are embracing a growing movement to raise, produce and sell healthful, locally grown fruits and vegetables.
One local effort also is rooted in assisting a longtime area agency dedicated to helping others.
"We just think it's a real cool event," said Debbie Pifer, co-owner of White House Fruit Farm Inc., referring to Sunday's second annual Farm to Fork dinner at White House, 9249 Youngstown-Salem Road (U.S. Route 62).
The Farm to Fork idea celebrates the importance of producing such foods as well as its impact on the local economy, Pifer noted.
An estimated 100 guests each bought $100 tickets for the gathering, the main sponsor of which was Covelli Enterprises Inc. Proceeds are to benefit United Way of Youngstown and the Mahoning Valley, noted Tara Mady, the agency's marketing director.
Attendees sat under a large, white tent nestled next to a lake and trees to enjoy entrees such as Statler chicken breasts stuffed with sweet corn, chargrilled asparagus, baby racks of lamb over homemade sacchetti and braised short ribs of beef in a red-wine sauce. Other selections included baby zucchini and eggplant, along with roasted Roman artichoke hearts over miniature new red potatoes.
Topping off the main courses was dessert featuring White House pies with Handel's ice cream.
"Everything is made from scratch," noted Ross Scianna, who, along with his son, Devlin Scianna, owns Antone's Italian Grille, which was chosen to prepare Sunday's dinner.
That homemade touch is reminiscent of his mother, Helen Scianna Gianfrancesco, who opened Antone's Restaurant and Confetti Lounge in 1961 in Youngstown, the elder Scianna explained.
The eatery also supports using locally grown food to assist area farmers and producers, he added.
In addition, the event bolstered United Way's ability to network with its supporters, noted Karen Luke, UW's resource- development director.
Also at the dinner was Richard Hahn, president of Keynote Media Group, which helped to facilitate the partnership between United Way and White House Fruit Farm.
During the meal, attendees saw a culinary-arts presentation by Scianna and heard remarks from Bob Hannon, UW's president.
Some people bought raffle tickets for prizes that include a trip for two to Super Bowl XLVIII on Feb. 2 at MetLife Stadium in New York City. Winners will be announced Dec. 14 during a United Way event at Poland Seminary High School.
Sunday's gathering also featured a wagon tour of the fruit farm.