Cooper, Colbert, Keller and Vivo win junior titles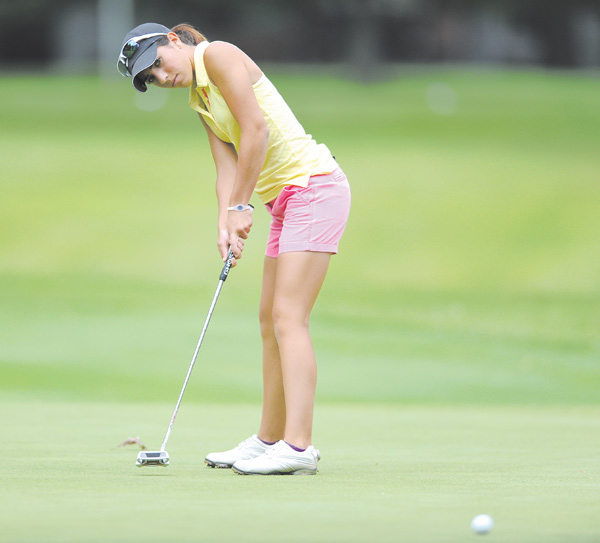 ---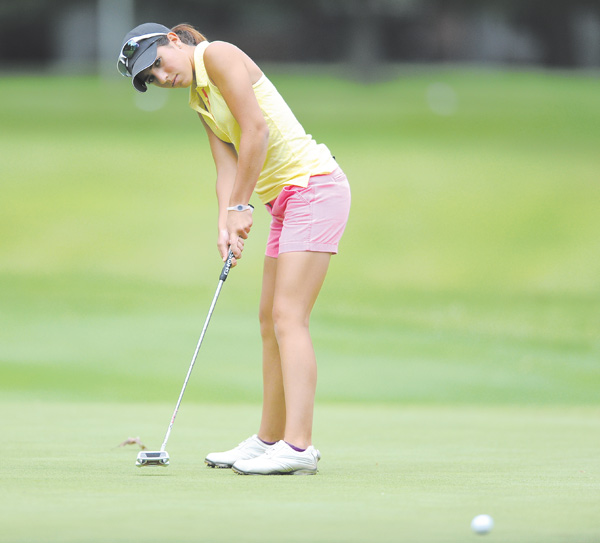 Photo
Christina Cooper follows through on a putt on the back nine Sunday during the finals of the Greatest Golfer of the Valley presented by Farmers National Bank at Trumbull Country Club. Cooper won the girls 15-17 division.
Greatest Golfer of the Valley Junior Finals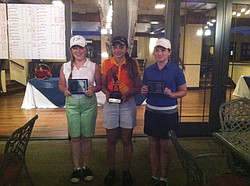 Gallery
Greatest Golfer of the Valley junior finals, champions in four divisions 15-17 boys, 15-17 girls, 12-14 boys and 12-14 girls
By Ryan Buck
Warren
Christina Cooper walked away from Trumbull Country Club, one year ago, three shots away from a title she had long coveted.
Sunday evening's celebration was worth the wait.
Cooper, a junior at Canfield, was brilliant in her victorious round of 74 in The Vindicator's Greatest Golfer of the Valley presented by Farmers National Bank. She was five shots better than 2011 champion Jacinta Pikunas and six better than Kaylee Neumeister, who claimed the girls 12-14 title in 2012.
"It feels a lot better to win it," Cooper said. "I wasn't really happy last year, but I'm really glad I won this year because that was one of my goals. Everything overall, my game improved. I've been working a lot harder."
Four birdies and a 1-under back nine propelled her to victory.
"I was struggling a little on the front with my nerves, but I got it together on the back," Cooper said.
Cooper thought her putting was the difference, but she also was consistent from tee to green.
"You have to have a good short game," she said of solving Trumbull's shorter length, but awkward angles and fortified greens. "If you don't hit good shots into the green, it's important to get up and down [for par]. That's what really helped me today."
Billy Colbert survived a wild finish to claim the boys 15-17 title.
Colbert, Jason McQuown, Nicholas Braydich and Nolan Snyder all finished with regulation rounds of 78. Their division title had to be decided by a one-hole playoff on Trumbull's first hole.
Colbert's towering drive drew toward the left side of the fairway and bounced into a bunker 150 yards from the green.
"I can hit out of the sand fine, but all I needed was a good lie," said Colbert, a standout at Hickory High in Hermitage, Pa. "There was a slight mound behind the ball so that didn't allow me to get to the green and I ended up about 60 yards short."
McQuown, Snyder and Braydich all arrived at the green in three shots, leaving Colbert with the last shot at the pin in the middle of the green.
From the rough just off the right side of the fairway, he went right at it.
"I remembered how, right in front of the hole, there's a slope up so you want to land it on top and that's what I tried," Colbert said. "It worked."
His clutch shot landed two-and-a-half feet from the cup for a perfect look at par and a win.
Snyder's putt was a near-miss. Braydich's lipped out. McQuown, who finished second last year, saw his putt graze the edge and spin out.
"I told myself just to try and make my putt because any of the three could still make par and tie or I could still miss mine," Colbert said. "It was downhill and it broke a couple inches to the right. Those are the most uncomfortable putts to make too."
Colbert calmly dropped his for par.
Boardman's Ken Keller made noise with his game and his attire as he took the boys 12-14 division with a 76. He found redemption after finishing second a year ago.
"Last year, I didn't feel too happy about coming in second," said Keller, clad in an orange and blue-striped shirt and bright orange pants. "This year, coming in first is a big step for me. I'm really happy about it."
As the daylight left the course, Jenna Vivo stepped into the spotlight. Her 81 earned her the girls 12-14 division crown.
Vivo, of Boardman, built a large lead with a front-nine 39 and cruised to victory.
"The front, I think, is easier because it's more open and the greens aren't as difficult as the back, but I shot better on the front than the back," she said.
The Greatest Golfer series will continue the week of Aug. 18. For all tournament coverage, see The Vindicator in print and on-line at vindy.com/golf. View all the scores from the Junior Finals here.