Road to recovery leads to the kitchen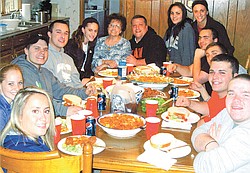 Photo
Special to The Vindicator: Surrounding Carol DiFabio (top center) at one of the Italian feasts she prepares each week for her family are, from left, Briana DeRose, niece; Alisa Rasoth, family friend; Mike DeRose, nephew; Vincent Morocco, grandson; Gia DiFabio, granddaughter; Mike DiFabio, her son; Tori Murray and Jami DeFabio, granddaughters; Geno DeFabio, nephew; John Morocco and Mike DeFabio, grandsons; and Billy Stoy, friend.
By Sean Barron
AUSTINTOWN
Many people will unhesitatingly say Friday if asked their favorite day of the week.
But put the same question to members of Carol DiFabio's family and you probably will get another resounding and near-unanimous response: Thursday.
Why? Because that's when immediate and extended family members converge on DiFabio's Timberlane Drive residence for her weekly pasta dinners.
"My mom is very loving and selfless. She always puts family and her children first," said Loretta Morocco of Cornersburg, one of DiFabio's three children.
Morocco, a technician with Boardman X-ray-MRI, was among about 15 of DiFabio's children, grandchildren, relatives and friends who attended a recent Thursday gathering and meal DiFabio had prepared that consisted of homemade cavatelli and meatballs, green beans and salad.
Nevertheless, a freak accident more than two years ago almost ended DiFabio's ability to continue the Thursday tradition that got under way about 11 years ago and has grown within the past year.
In March 2011, DiFabio tripped and fell in her garage, striking her neck directly on the edge of a 5-gallon bucket. The injury to her neck led to swelling in her throat that caused it to slowly close and her to gasp for air, recalled her husband, Nick DiFabio.
"She said, 'I think I broke my collarbone,'" Nick, 78, explained, adding that she was admitted to St. Elizabeth Health Center's Boardman Campus.
"We were told she may never breathe on her own or walk again," added Morocco. "Her quality of life looked grim."
Further complicating matters during her weeklong stay in the intensive-care unit was that she inadvertently removed a tracheotomy tube while sleeping, which further compromised her breathing and caused part of her skin to turn blue.
Afterward, DiFabio was taken to Hillside Rehabilitation Hospital in Warren, where she received physical, occupational and speech therapy to regain her strength and ability to walk, said Nick, who retired after having worked 31 years at General Motors Corp. in Lordstown. Eighteen days later, however, his wife returned home, and it wasn't long before she found herself back in the kitchen.
In addition to the homemade meals, the weekly get-togethers have created opportunities for family members and relatives to become closer with one another, something not lost on 20-year-old John Morocco, one of DiFabio's six grandchildren.
"It's just been great. It means a lot to all of us," said Morocco, who's majoring in finance and math at Youngstown State University.
Another Thursday regular is Theresa Murray, 22, of Austintown, a great-niece who stayed at the DiFabio home for about two months after giving birth to her son, Tad.
"She took awesome care of him," Murray recalled.
Murray said that DiFabio occupies a special place in her heart partly because her grandmother, who is DiFabio's sister, died before Murray was born.
"She's always been grandma to me," Murray said of DiFabio.
Ask DiFabio about her meals' ingredients and staying power and you can expect a rather stoic reply that probably will include credit to her mother, Genevieve DeRose.
"She taught me everything I know," DiFabio said with a chuckle.
Even if she were to hang it up and shelve the longtime family tradition, Nick DiFabio would be no less grateful. Just having his wife at home is the biggest and sweetest gift, he says.
"A lot of it was determination on her part and a lot of prayers," Nick said about her recovery. "She's truly a miracle."
Another milestone the DiFabios reached occurred July 2, the day they celebrated their 58th anniversary.