Bunofsky family honors couple for 50th anniversary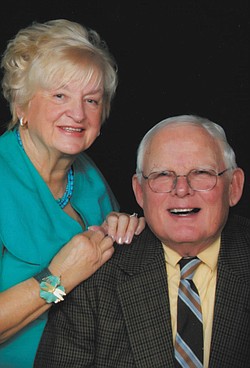 Photo
Mr. and Mrs. Ron Bunofsky
LOWELLVILLE
Ron and Anne Bunofsky of Lowellville are marking the 50th anniversary of their wedding with a Mass and a meal today, hosted by their family.
The couple will be honored at a 10 a.m. Mass at Christ the Good Shepherd Parish at St. John's Church in Campbell. Invitations have been extended for a luncheon afterward at Caff Capri in Boardman.
The Bunofskys have three children: Cheryl (Harold) Aughton of Gibsonia, Pa.; Ron (Andrea) Bunofsky of Lowellville; and Brian (Jennifer) Bunofsky of Cranberry Township, Pa. The couple also have eight grandchildren.
The couple are members of Christ the Good Shepherd Parish.
Mrs. Bunofsky, the former Anne Salata, worked as an instructor at various business colleges in Ohio and Pennsylvania before she retired. She belongs to the Coitsville Garden Club and participates in several church organizations.
Mr. Bunofsky had a career as a professor of health and physical education at Edinboro University of Pennsylvania. He retired in 1997. Mr. Bunofsky, a U.S. Army veteran, is a member of the Ohio High School Athletic Association and the Youngstown Metro Umpire Association. He also serves as a deacon at Christ the Good Shepherd.
The couple were married July 27, 1963, at St. James Church in Pulaski, Pa.