Young Dylan Crump carried to rest in beloved Model T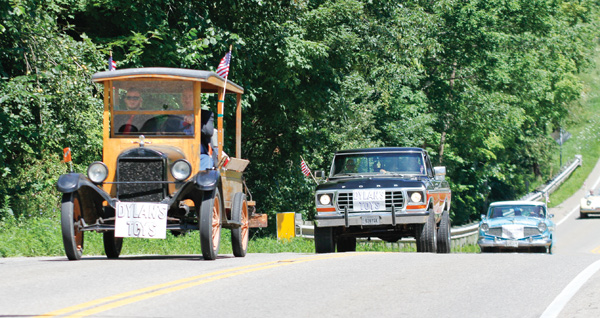 ---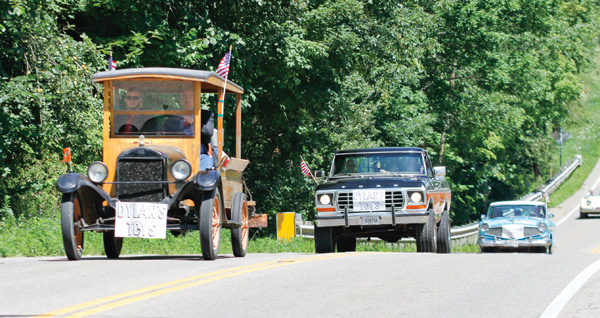 Photo
Dylan Crump's modified Model T carries his coffin from the funeral home to the cemetery, with more than 40 vehicles following. Mary Crump, Dylan's mother, said most of the cars in the procession had been worked on by her son.
By LEE MURRAY
TheNewsOutlet.org
NORTH JACKSON
A young car enthusiast had a fitting tribute at his Thursday funeral.
Friends, family and colleagues of 21-year-old Dylan Crump, who died in a one-car accident Sunday, gathered at Higgins-Reardon Funeral Home on South Salem Warren Road to pay their final respects.
Dylan was taken to his resting place, at West Berlin Center Cemetery, in the back of his modified Ford Model T. Dylan inherited the classic vehicle from his grandfather, who was an antique-car enthusiast.
Dylan's mother said it was a fitting tribute.
"It was my idea to drive him in it," said Mary Crump. "He was so close to his grandfather," Oliver Crump, who died in 2011.
The procession left the funeral home a little after noon. On the front of the Model T was a sign that read "Dylan's Toys." A long parade of vehicles followed, many of which Dylan had worked on.
Dylan was a car buff and loved working on classic and modern cars. In the five years Dylan held a driving license, his mother said, he had owned 42 cars.
"I've ridden in every single one of those vehicles," she said.
Mary Crump added that Dylan's love for mechanics came from his family. His dad is John Crump.
"His grandfather loved antique vehicles, and his father did body work," she said. "That's what got him so interested in the first place."
Dylan worked in sales at Everbrite Sweeping and served in the Army Reserves. He also worked at Summit Racing, which was a job that suited his interest in car restoration and repair.
"I think there was a method to his madness," she said of his employment, adding that working at Summit gave him access to car parts and tools for his passion.
The Model T will stay in the family, and will be passed along to Dylan's brother, Edward Crump.
Dylan was killed when the car he was driving left the road and struck several trees on Southeast River Road. The Ohio State Highway Patrol continues investigating the cause of the accident.
TheNewsOutlet.org is a collaborative effort among the Youngstown State University journalism program, Kent State University, University of Akron and professional media outlets WYSU-FM Radio, The Vindicator, The Beacon Journal and Rubber City Radio, both of Akron.