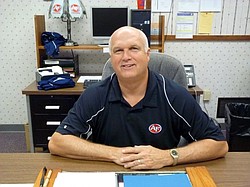 Photo
Neighbors | Elise McKeown Skolnick.Doug McGlynn retired from his position as head principal at Austintown Fitch High School June 28.
By ELISE McKEOWN SKOLNICK
For Doug McGlynn, becoming principal at Fitch High School was like coming home. He's a 1977 graduate of the school. But there comes a time to leave home. McGlynn retired from the Austintown Local School District June 28.
McGlynn gave thought on his career.
"It was weird, at first," McGlynn admits.
He found himself the boss of many people who had been his teachers, and at a young age – he was just 30.
"And they're looking at me like, 'What do you know?'" McGlynn said.
But he found his place as an administrator in the district, spending 23 years there. He joined the staff in 1990 as the freshman principal, and eight years later became head principal.
It was a natural fit, he said. Both he and his wife, Maribeth, grew up in Austintown and still had family in the area. So they packed up their two children, Greg and Shannon, and moved to the district.
Though it wasn't his original plan, McGlynn found himself in administration early in his education career.
"I always just wanted to be a teacher and do some coaching and some other things on the side to help kids," he said.
But after teaching high school social studies at West Branch Local Schools for six years, the opportunity came along for him to become a principal in the Tuscarawas Valley Local Schools.
"It was a great experience," McGlynn remembers. "And I found that you could touch so many other lives in a whole different way being a principal, not just the kids you're teaching in a classroom or the kids you're coaching, but you could really touch everybody. And that was my main goal, to try to help as many kids as I could."
Now, McGlynn will be beginning a new chapter in his life. In August, he will begin a new job as a principal in the Western Reserve Local School District.
Leaving was a difficult decision, McGlynn said. He will miss the people in the Austintown district, but he's looking forward to this next opportunity.
"Kids are kids," McGlynn said. "No matter where you go, I really believe that. It's how you treat them and what you expect of them that makes a difference."