Retired police chief to quit mayoral race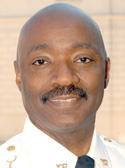 ---

Photo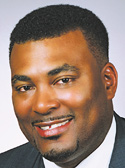 Photo
YOUNGSTOWN
Retired Police Chief Jimmy Hughes and DeMaine Kitchen, the mayor's chief of staff/ secretary, said if both stayed in the Youngstown mayoral race neither had much of a chance to win.
Realizing that, Hughes said Thursday that he contacted Kitchen about a week ago offering to withdraw and back him.
"We knew that both of us in the race would drastically diminish the chances of either one of us being victorious," Kitchen said.
Kitchen said he and Hughes, who are both black, would have "absolutely" split the minority vote in the November general election if both remained candidates.
"The reality of the situation is that two qualified, independent candidates running in this election, the chances of either of us being elected is greatly diminished," Hughes said of himself and Kitchen.
John A. McNally IV, who won the Democratic primary for mayor in May and is white, said, "Jimmy, DeMaine and I are all in agreement that two or three African-Americans in the race (Frank Bellamy, an independent candidate, also is black) will dilute votes from the minority community."
John M. Crea, an independent running for elected office for the first time, took exception to Hughes' comment about two qualified independent candidates, saying it was insulting to voters, particularly because it comes from someone who quit the race.
McNally, a former city law director and Mahoning County commissioner, disputed Hughes' statement that the decision was a recent one.
"It didn't come up around the kitchen table last week," McNally said. "Jimmy was pressured to get out of this race."
Hughes said that's not true.
"Who are these people who put pressure on me?" he asked.
Hughes said he expected to largely self-fund his campaign.
"What kind of pressure could" anyone apply? he said. "Don't spend your own money?"
Hughes said he didn't cut a deal with Kitchen for his support.
The former police chief sharply criticized McNally and questioned his integrity for being indicted in July 2010 on charges of engaging in a pattern of corrupt activity, conspiracy, perjury, bribery and disclosure of confidential information in connection with the county's purchase of Oakhill Renaissance Place.
The charges were dismissed in July 2011 at the request of special prosecutors who said their inability to obtain tape recordings held by the FBI supposedly related to the case made it impossible to proceed.
"I don't think he should be in the race," Hughes said.
Hughes said that McNally's decision to not seek letters from federal prosecutors to clear his name is a concern.
"You have that cloud hanging over your head," Hughes said of McNally. "That's an issue that should be addressed. That's bad for the city, bad for the community. That's just going back to the past when we had those kinds of things going on."
McNally, who strongly denied the charges, said the case is closed and "there's no cloud over me. It's what my political enemies throw at me, but I don't believe it will be any factor. My name's already been cleared."