Learning about STEM careers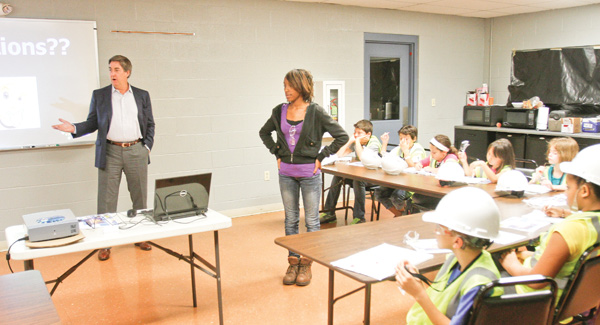 ---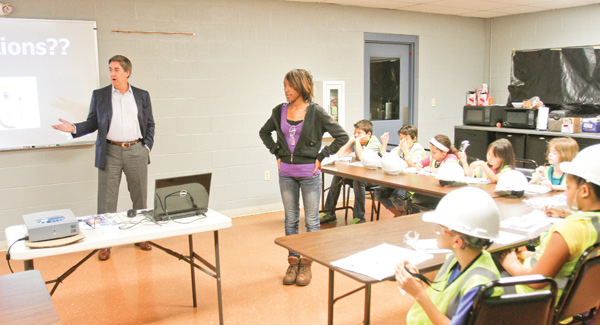 Photo
Mike Garvey of M7 Technologies and Taijaune Robinson, an intern at M7, talk to students in the Summer Manufacturing Institute about ways to measure and how lasers are used.
By Denise Dick
Youngstown
Taft Elementary sixth-grader Shirlise Gilbert, 11, loves math and wanted to spend part of her summer learning new things.
She signed up for the Summer Manufacturing Institute, a weeklong workshop focusing on Science, Technology, Engineering and Mathematics careers.
"I wanted to experience new things," she said.
The pilot program, which runs through Friday, is a collaboration of the YWCA of Youngstown, Mahoning Valley Manufacturers Coalition, OH WOW! The Roger and Gloria Jones Children's Center for Science & Technology, U.S. Sen. Sherrod Brown's office and Youngstown City Schools.
About 20 fourth- through sixth-graders are enrolled in the program, visiting area manufacturing facilities and learning about STEM carers and the skills required to work in them.
They spent Wednesday morning at M7 Technologies, an engineering, manufacturing and research company in the city.
It was Shirlise's favorite part of the camp so far.
"We got to see different pieces of big machinery and a laser," she said.
Taijaune Robinson, a 2012 Youngstown Early College graduate who is studying industrial engineering at Youngstown State University while interning at M7, reviewed some of the equipment used at the company and took a laser image of the students during their visit.
Varada Bhide, communications coordinator for the YWCA, said the idea of the workshop is to increase students' interest in science, technology, engineering and math with a push to attract girls in particular.
"We want to get them thinking about careers in STEM," she said.
Jada Martin, 10, a fourth-grader at St. Joseph the Provider School, liked the visit to OH WOW!
"We were on the fake news and were in a tornado and an airplane," she said, referring to various exhibits at the museum.
Bailey McDermott, 13, a sixth-grader at Girard Intermediate School, signed up for the workshop because he thought it looked interesting. So far, he hasn't been disappointed.
He enjoyed the visit to the National Additive Manufacturing Innovation Institute where he witnessed a 3-D printer in action for the first time.
Deena Kassawat, 10, a fifth-grader at McKinley Elementary School in Poland, liked the visits to both the Butler Institute of American Art and the McDonough Museum of Art.
"At the McDonough, we got to make 3-D key chains," she said.
The museum features a 3-D printer display.
The workshop continues with visits to Classi-Co Foods Inc. in New Castle, Pa., and the Lake to River Kitchen Incubator and Museum of Labor and Industry, both in the city.
Bhide said the entities that created the workshop hope it becomes an annual event.