Terlesky set for Optimist International event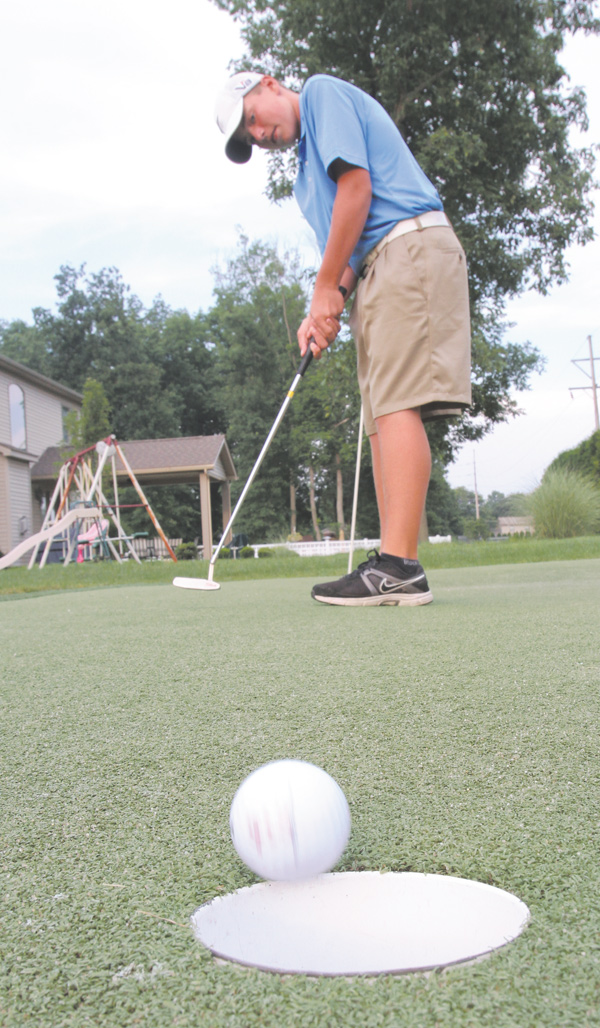 ---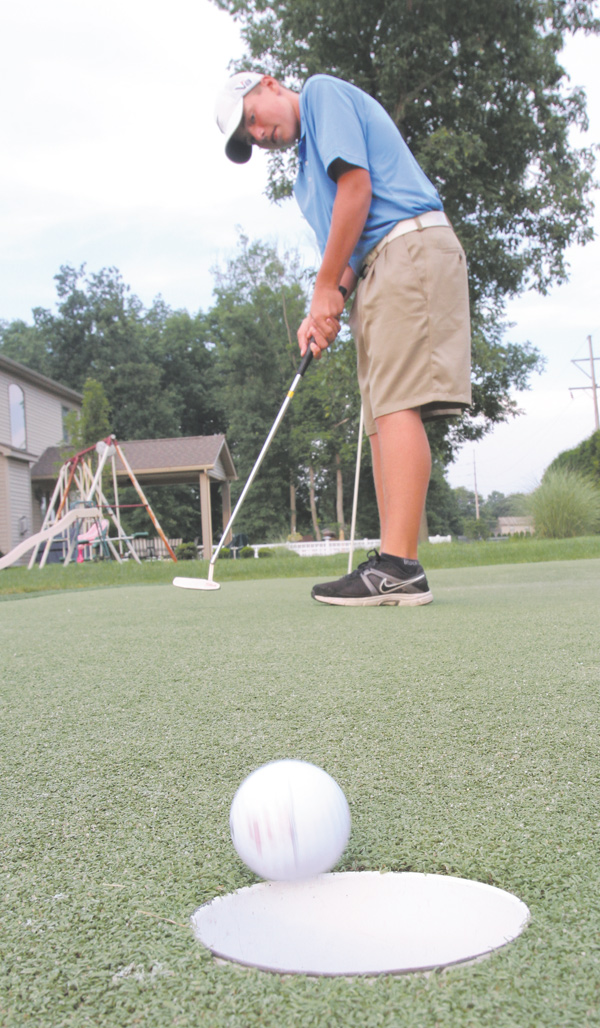 Photo
Brian Terlesky, 13, putts on the green in the backyard of his Boardman home. Brian, who is Junior Golf Scoreboard's No. 8-ranked U.S. golfer, earned an all-expense paid trip to the Optimist International Junior Golf Championship this weekend at the PGA Golf Resort in Palm Beach Gardens, Fla., by winning his age division at the Optimist State Championship in Canton in June.
Terlesky's game
rounding into shape
By Greg Gulas
YOUNGSTOWN
Boardman's Brian Terlesky will represent Ohio for the second time in three years today when the Optimist International Junior Golf Championships begin at Florida's Palm Beach Gardens PGA National Resort and Spa.
The 13-year-old golfer, a member of the American Junior Golf Association, earned the state's only all-expense paid trip for his age group when he won a District Junior Golf Championship event on June 17 at Canton's Tam-O-Shanter Golf Course. He shot a 2-under par 68.
Terlesky's goal is simple — to improve upon his third-place finish in 2011.
"The old adage that practice makes perfect definitely holds true and this summer I really feel like I am hitting the ball the best that I have all year. To win, I feel like I just have to play my game," Terlesky said. "Reading a green is one of my strengths and that just comes from putting a lot. The bottom line in any tournament is the golfer that makes the putts is the one more often than not who will win the tourney."
The Boardman Glenwood School eighth-grader will play 20 events this year. With 12 wins and two runner-up finishes already to his credit, he feels his game is peaking at just the right time with international competition about to begin.
Terlesky, who was in Orlando, Fla., last week vacationing at Disney World with parents Brian and Christine, and siblings Tyler and Emma, was planning to prepare for the upcoming event by relaxing and then practicing on Florida's Bermuda grass.
He'll head into the tournament fresh on the heels of three consecutive first-place finishes (he's won five of the last six events that he has entered), having won tournaments in Alliance and Cleveland and most recently the Ohio Public Golfer Association Tournament, in which he shot 147 at the July 15-16 event.
With five holes-in-one already to his credit, Terlesky recently added Golfweek Magazine's All-Midwest first-team honors (comprised of players from Ohio, Michigan, Indiana, Kentucky and Tennessee) to an ever-expanding resume and also earning Leupold "Player of the Year" laurels for his age group.
"It just makes you want to try harder each and every time out," Terlesky said. "As long as you give it all that you have then you should have no complaints. That is why I am looking so forward to competing in this year's Optimist International event."
Terlesky is Junior Golf Scoreboard's eighth-ranked American golfer in its class of 2018, having fallen seven spots (he was ranked No. 1 for over a year and a half) due to an inability to play year-around.
When he played in 2011, he was grouped with players from Japan, Malaysia and Thailand, players that he said had plenty of links talent.
"It's fun to go up against some of the very best players from all over the world," Terlesky said. "They challenge you and you challenge them and the only way you can get better is when you are going up against the top players in the nation."
His weekly practice regimen includes time with his father at either the Kennsington Golf Club or Lake Club, and with friends Jared Wilson, Cade Krepps and Ken Keller at Mill Creek Park.
Wilson, a Columbiana native, will join Terlesky at this year's event. The two are among seven age-group winners who also earned expense-paid trips to the International Junior Golf Championships during the recent Optimist State Championship in Canton.