Program is for kids with chronic or life-threatening illnesses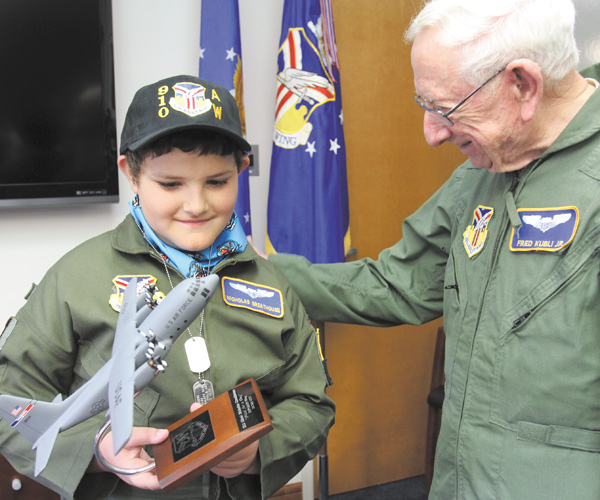 ---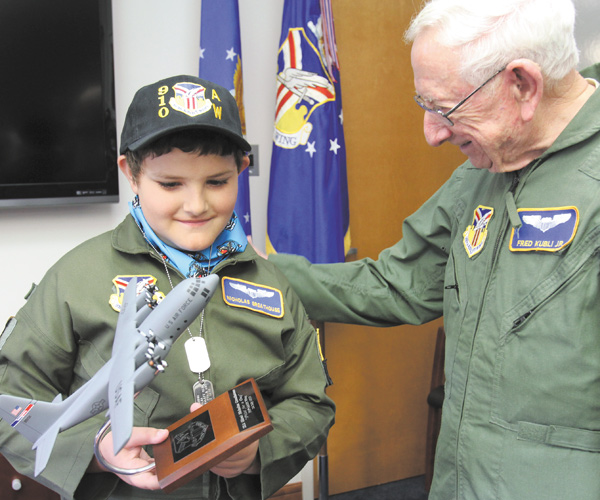 Photo
It was smiles all around as Nicholas Greathouse, 10, of Girard received a model of a C-130 cargo plane from Fred Kubli Jr. after the youth was sworn in as an honorary Air Force second lieutenant in the 910th Airlift Wing during Pilot for a Day activities Wednesday at the Youngstown Air Reserve Station in Vienna.
VIENNA
Ten-year-old Nicholas Greathouse was sworn in as an honorary Air Force Reserve second lieutenant as part of the Pilot for a Day program at the 910th Airlift Wing at the Youngstown Air Reserve Station here.
"Very cool," said Nicholas, after being given the oath by Air Force Col. William D. Phillips, commander of the 910th's Operations Group.
Nicholas' tour as pilot for a day at YARS on Wednesday included donning a genuine flight suit and riding in the cockpit of a $33 million C-130 Hercules cargo plane as it taxied down the main runway.
The purpose of the Pilot for a Day program is to provide a fun-filled day of activities to children who live with a chronic or life-threatening disease or illness, YARS officials said.
Nicholas, a fourth-grade student at E.J. Blott Elementary School in Liberty, receives treatment for sickle cell anemia at Akron Children's Hospital Mahoning Valley.
According to the Mayo Clinic website, red blood cells usually live about 120 days before they die and need to be replaced. Sickle cells, however, are fragile and die in 10 to 20 days, leaving the body chronically short of red blood cells and causing anemia and fatigue.
Periodic episodes of pain, called crises, are a major symptom of the disease, caused when sickle-shaped red blood cells block blood flow through tiny blood vessels to the chest, abdomen and joints.
Nicholas already has had three crises this year, two of which required hospitalization, said his parents, Stacey and Edward Kiepper III of Girard. Nicholas' siblings are Skyler Greathouse and Edward Kiepper IV.
As part of the activities, Fred Kubli Jr., treasurer of the Youngstown Air Reserve Station Base Community Council, financial co-sponsor of the program, presented Nicholas with a model of a C-130.
Included in the base tour were a visit to the life-support shop, firing the firearms training simulator, and getting a ride on a base firetruck.
Nicholas said the whole day was awesome, his mother said.
"He loved everything, and so did I. Everybody treated Nicholas really well," she said.