Cole dominates to power Bucs past Nats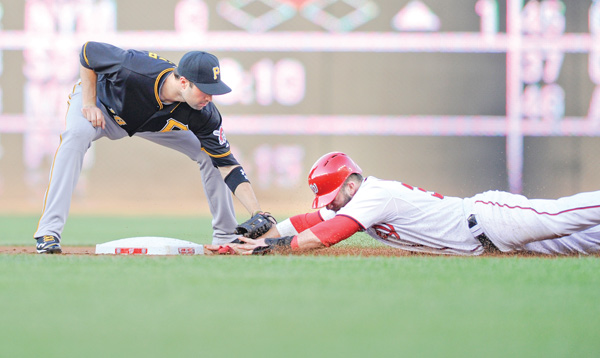 ---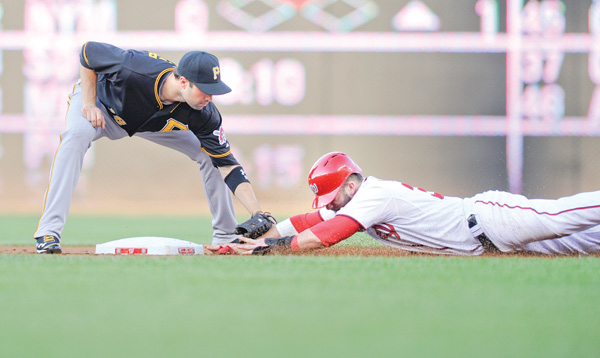 Photo
Pittsburgh Pirates second baseman Neil Walker, left, tags out Washington Nationals' Bryce Harper as he tried to steal second base during the first inning of a game Tuesday in Washington.
Associated Press
WASHINGTON
Pittsburgh starter Gerrit Cole did all he could Tuesday night to get the Pirates through their first game without All-Star closer Jason Grilli.
Cole pitched seven strong innings to end a personal three-game losing streak, and added an RBI single as the Pirates beat the Washington Nationals 5-1.
Pedro Alvarez homered and singled, and Russell Martin had three hits for Pittsburgh, which has won three straight.
Cole (5-3) turned in the best outing of his young career, allowing a run on two hits in his eighth career start.
"He was just aggressive. Doing a good job locating his fastball. Mixing his off-speed pitches," Martin said. "But, I mean, he's got that overpowering stuff.
"When he doesn't give too many free passes and he's able to throw strikes in good locations, he's a tough at-bat."
The right-hander struck out four, walked one and hit a batter.
"(The) hitters he did get behind, because he got behind six or seven hitters, he got them out," manager Clint Hurdle said. "He was able to pitch with good stuff tonight and that's why he got through seven in such an efficient manner."
Cole's effort eased the burden on a bullpen that will have to make do — at least for now — without Grilli, who was placed on the 15-day disabled list Tuesday with a right forearm strain.
Wilson Ramos homered for Washington, which had just three hits. The Nationals have lost five straight and 10 of 12.
"Really, the thing about us right now is we're a little snake bit," Washington's Jayson Werth said. "Things aren't going our way and we're not winning games. We need to find a way to win a game."
After allowing the homer to Ramos in the third, Cole retired 15 of the last 16 hitters he faced against a Washington team playing its first game in front of new hitting coach Rick Schu.
"I fell behind some guys and was still able to make pitches," Cole said. "You always kind of keep telling yourself you're only one pitch away. Never let yourself out of the at-bat."
Cole accumulated as many hits at the plate — going 2 for 3 — as he allowed.
Bryan Morris pitched the eighth and interim closer Mark Melancon the ninth, retiring Washington's number 2, 3 and 4 hitters.
"It's the middle part of their order. Let's just go ahead and put our best on it and see if we can put the game away," Hurdle said of using Melancon with a four-run lead.
Washington's Taylor Jordan (0-3) allowed five runs, four earned, in 7 2/3 innings in his fifth career start. Through seven innings he'd given up two earned runs on seven hits, all singles.
Tonight, Pittsburgh's Francisco Liriano (9-4, 2.44) opposes Stephen Strasburg (5-7, 2.97).