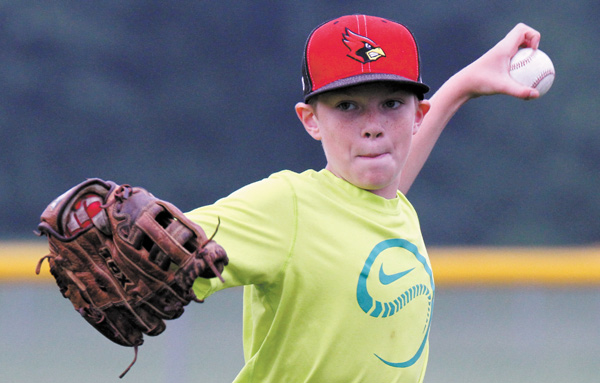 ---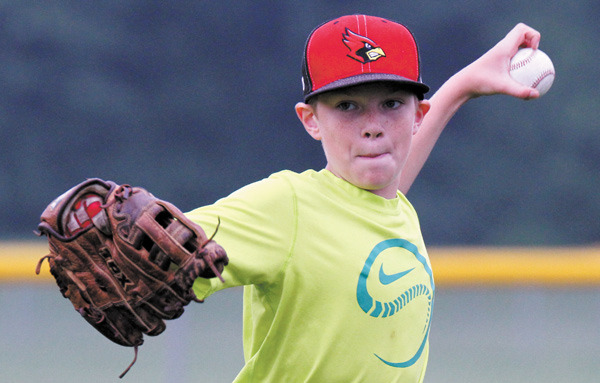 Photo
Dominic Pilolli warms up for the Canfield 10-11-year-old baseball team.
By Kevin Connelly
Canfield
When George Beck first started managing this group of kids, they were just 8-year-olds playing for the love of the game.
Now, three seasons later, they're the Canfield 10-11-year-old baseball team who will be representing District 2 in the Little League State Tournament for the second year in a row. As winners of last year's 9-10-year-old state title, their manager understands the bulls-eye that puts on this year's team's back.
"Our goal is to win a state championship," Beck said as he watched his team practice in preparation for today's first-round game in North Canton. "We stated back when we were 8, we want to win the state championship when we're 10, when we're 11, and again if the opportunity presents itself when we're 12."
With one goal down, and two to go, Beck and his players are ready to complete the next step in their journey.
"Our district is a very competitive district," Beck said. "It gets us prepared for the state tournament. As evidence of last year, we were fortunate enough to go out to Cuyahoga Falls and do very well, so we're hoping to do the same this year."
This year's road starts today at 6 p.m. against District 8's champion Washington Court House, whose path to the state tournament is one Beck has made his team well aware of.
"We take no team lightly," he said. "The team we're going to be playing in state beat every team in four innings, so we're going to be challenged. They're a good baseball team."
His Cardinals squad isn't too bad either.
After defeating Boardman 11-0 in the opening round of the district tournament, they followed that up with a 14-4 win over Howland before having to take down Boardman once more in the championship. In what Beck referred to as an "epic pitching duel," his starter Dominic Pilolli led Canfield to a 2-1 victory and another district title.
"They're such a competitive group," Beck said, "that I think these kids motivate themselves. They're just a hard working group that puts in a lot of hours when people aren't watching, so that's a testament to them."
The other players are Seth Velker, Ethan Fletcher, Brayden Beck, McCoy Watkins, Richie Hofus, Jake Kowal, Walt Sweeney, Cole Rothbauer, Evan Skripac and Jimmy Maass.
Every player from last year's championship team is on this year's team — plus one additional player thanks to a change in Little League rules. With all the hours of practice and travel time together, Beck sees them as one big family.
"They're a tight-knit group," he said. "They could care less who gets the big hit, who makes the big play in the field, as long as they get W's. That's a testament to these guys at such a young age to be so unselfish."
Beck's assistant coaches are Mark Velk, Derick Fletcher and Jeff Kowal.
While the kids may be young, they're certainly not afraid of the stage. In fact, next year they hope to be on the world stage.
"I tell the boys, you have to set your goals high," Beck said. "If you don't set your goal at Williamsport, you'll never get there, so that's our goal."
Their next step starts in North Canton. As for Williamsport, that will have to wait until next year.