Mercer County sixth-grader 'sticks' with duct-tape business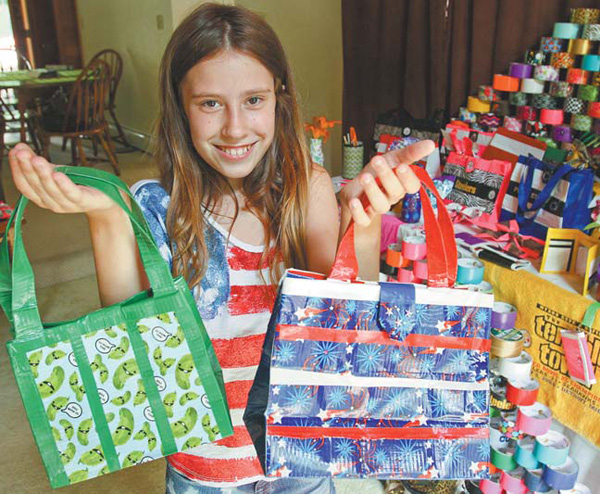 ---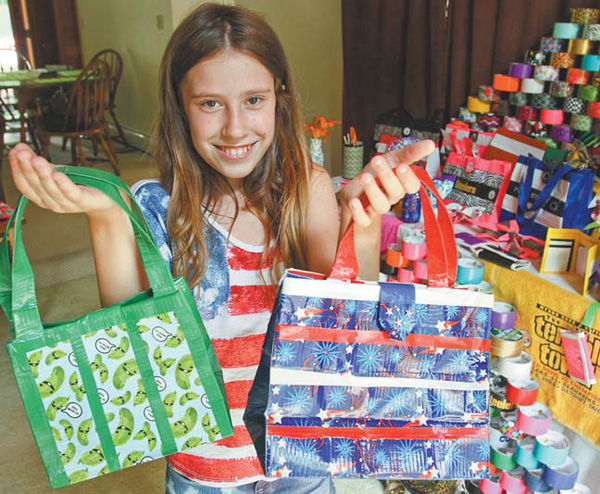 Photo
Hailey Rose, an 11-year-old from Transfer, Pa., recently began selling her duct-tape creations to earn money for college. Hailey's business, Just Stick With Me, has taken off in the past few months, and she can barely keep up with the demand for her handmade items.
By EMMALEE C. TORISK
TRANSFER, PA.
Two months ago, on a whim, 11-year-old Hailey Rose brought a bag she'd recently constructed from colorful duct tape and recycled plastic to a friend's garage sale.
It ended up selling, almost immediately, for $10.
"After I came home, I'm like, 'Guess what I sold?'" Hailey said. "I asked [my mom] to put it on Facebook, and she thought I was crazy. In the first hour, I sold five."
On that very same day, Hailey's first business venture, Just Stick With Me, was born — with a little help from her mother.
Now, Hailey, a soon-to-be sixth-grader at Reynolds Elementary School in Greenville, Pa., and the daughter of Michelle and Doug Redmond, can barely keep up with the demand for her duct-tape creations, which include bags, wallets and tablet cases. Customers have even requested items such as wristlets and diaper bags, Michelle Redmond said.
All are available in a multitude of patterns and colors, and they can be customized and ordered online via the young entrepreneur's Facebook page, Etsy shop or website.
On average, prices range from $15 for a wallet or a tablet case, to $25 for a bow-adorned bag, Michelle Redmond said.
Although the majority of purchases so far have been local, Hailey already has sent her bags as far away as California, and orders have recently come in from Alabama, Oklahoma and Texas, among other far-flung locations, said Pat Smeraglia, Hailey's grandmother, who lives in Sharon, Pa.
"It's really getting around," said Smeraglia, referring to her granddaughter's business. "We were very surprised. It just happened all so fast. We're very, very, very proud of her."
Just Stick With Me has practically turned into a full-time job for Hailey, who only learned how to make duct-tape bows from an online video at the end of April. Weeks later, she's sold more than 100 bags, and her business's Facebook page boasts almost 700 "likes."
"It was my idea [to sell the bags]. I thought it would be fun," Hailey said. "I love seeing them done. It's amazing. I never thought I could do it."
Hailey said the inspiration for her business came from a roll of Hello Kitty duct tape — a random gift from her aunt for which she somehow had to find a use. That one roll of duct tape, though, quickly multiplied, she said.
She now has at least 200 rolls, which are frequently stacked on top of one another in the family's living room as a veritable shrine to duct tape (and as an ideal photo opportunity for the several media outlets who have approached her for interviews).
Virtually every color of the rainbow — and more — is represented, and Hailey also has a number of patterned rolls, including zebra stripes, moustaches and pickles. Each roll usually retails for between $3 and $10, depending on the design, her mom said.
"I buy them all over the place," said Hailey, who added that she stocks up on duct tape by shopping online and at local craft stores. "There are a lot of weird kinds of duct tape. If I really like it, I grab it."
Not much else is required in the making of a duct-tape bag, except for supplies like a cutting mat and lots of nonstick scissors, which, at $12 a pair, can get expensive, Hailey said.
Initially, Hailey started off by making, and selling, between 15 and 20 bags each week, but said that summer vacation has given her the opportunity to more than double her weekly production. It's not all that uncommon for her to finish anywhere from 30 to 45 bags — each of which takes an hour and a half to construct — in any given week.
All she needs to make one, she said, is a little bit of free time and some country music, especially Miranda Lambert. And, of course, duct tape.
Even when school resumes in August, she'll probably still continue to make her duct-tape bags, with the hope of helping her business grow even larger.
Hailey said she just likes being busy, especially since every duct-tape creation she sells brings her a couple of dollars closer to her dream: attending Yale University to become a doctor or a dentist. She'd like to help people, and work to make them better.
"I always said, 'Get a job. Start saving now,'" her mom said. "I guess she listened."