Browns' Greco nails down five-year pact
---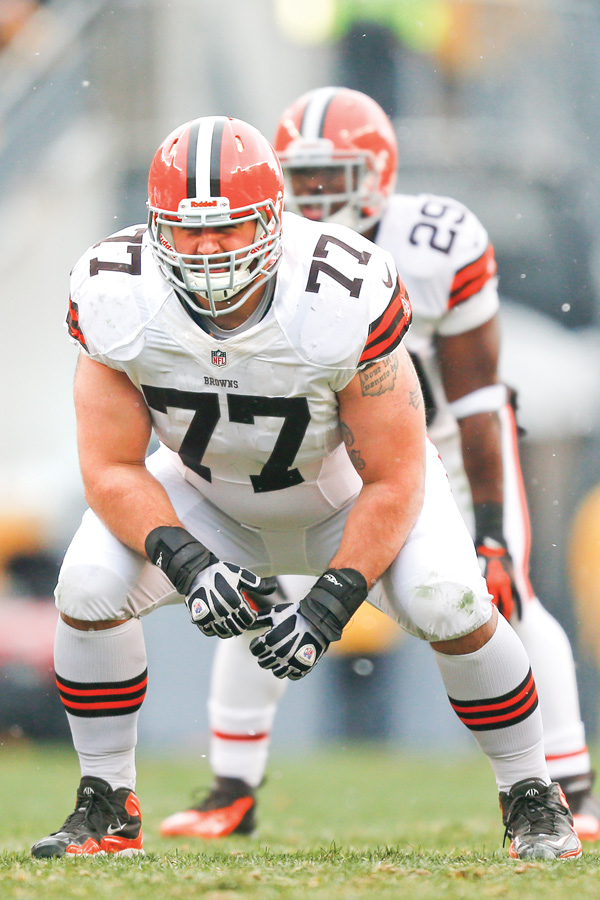 Photo
Cleveland Browns guard John Greco (77), a Boardman graduate, lines up during the second quarter of a game against the Pittsburgh Steelers in Pittsburgh.
Associated Press
CLEVELAND
John Greco figured he'd go to training camp, try to win a starting job and hopefully be rewarded with a new contract.
The Browns had other plans.
Greco, who made 10 starts at left guard last season after Jason Pinkston contracted blood clots in his lungs, agreed to terms Tuesday on a five-year contract through the 2017 season. Financial terms were not disclosed.
"It caught me off guard a little bit," the Boardman High graduate said. "I'm thrilled and a bit relieved.
"I'm happy the Browns have value in me."
Pressed into the starting lineup when Pinkston fell ill, the versatile Greco did not miss an offensive snap over his first nine starts and solidified one of Cleveland's strongest units.
The 6-foot-4, 315-pounder was part of a line that helped running back Trent Richardson rush for a franchise rookie record 950 yards and protected rookie quarterback Brandon Weeden, who passed for 3,385 yards — another team rookie mark.
Greco is the first veteran entering his final season under contract to receive an extension from the Browns' new regime.
"One of our goals," said CEO Joe Banner, "is whenever possible to develop and keep our own players. We're glad in this case that it worked out, and was mutually beneficial."
Although he has a new deal, Greco isn't guaranteed a starting job by first-year coach Rob Chudzinski.
However, Greco showed last year that he's more than competent and is definitely the front runner as camp approaches. During spring practices, Greco rotated with Pinkston and Shaun Lauvao — last year's starter for all 16 games at right guard — but took more snaps with the first-team offense than his teammates.
Greco said winning a starting job "is huge" but he isn't taking anything for granted and promised to work hard to keep the Browns' trust.
"John is a solid, all-around teammate, on and off the field," Chudzinski said. "He was given an opportunity to play last year and really showed well. He's respected in the locker room for his approach, consistency and team-first attitude."
Greco, 28, spent three seasons with St. Louis, which drafted him in 2008. The Rams won just three games in his first two years before going 7-9 in 2010. Greco senses the Browns are on a similar plane to make a big jump in the win column this season.
He noted the Browns were young last season and that Cleveland's players have done some growing on and off the field.
"It's a completely different feel," he said. "You can tell it's ripe for a push to win some games. That's the mindset and attitude going into camp."