Published: Wed, July 24, 2013 @ 12:00 a.m.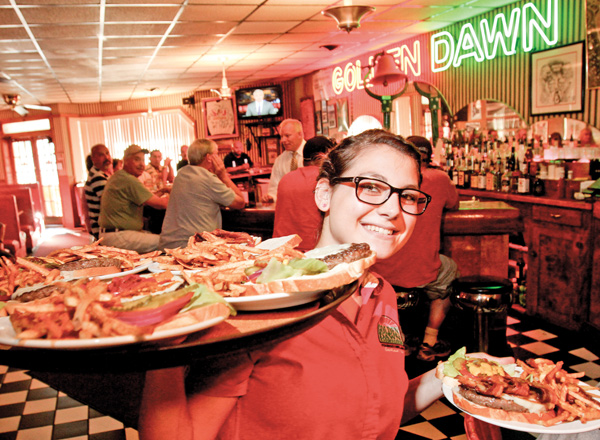 Photo
Golden Dawn server Anna Booth delivers a tray of Jumbo Burgers to the Burger Guyz.
If You Go...
What: Golden Dawn Restaurant
Where: 1245 Logan Ave. Youngstown, OH 44505
Contact: 330-746-0393
Hours: Sunday through Saturday 5:30 a.m. to 11 p.m.
Menu: 5 burgers ($2.75 - $9.50)
*Does not accept credit cards
By Anthony M. FUDA
Youngstown
Some people say that if you don't learn from the past, history is bound to repeat itself.
In some cases, history repeating itself is a good thing — especially at the Golden Dawn Restaurant.
Brothers Carmen and Ralph Naples have been providing the people of Youngstown with a good quality, affordable meal with a friendly atmosphere since they took over in 1960.
The restaurant was opened in 1934 by Carmen and Ralph's parents during the Great Depression. After moving the place four times, they finally settled at its current location on Logan Avenue.
The Golden Dawn was one of the first places in the city to get a liquor license when Prohibition ended in 1933.
Outside of the different brands of beers, the Naples brothers haven't changed much, including the prices. They say if you have a good thing going, why mess with it. Especially the menu, which is a majority of Mama Naples old-fashioned home-cooked meals.
The eatery is so rich in history that when you enter the doors, you feel you just stepped back in time. With the paneled wood walls to the red vinyl seats you would expect an aged and run down place, but it is clean and very inviting. Ohio State and YSU photos adorn the walls and large screen TVs are placed where you can sit down, eat your meals and have a couple schooners. For those who don't know, a schooner is an oversized glass, like a little fish bowl, filled with 15 ounces of Genesee beer on tap.
We took a table in back and looked over the menu. We saw a number of items from Mama Naples' kitchen. All so tempting and very reasonably priced, but we had to try the burgers.
The menu offers five burgers: Hamburger, Cheeseburger, Jumbo Chop Steak, Rib Eye Steak and the Filet Mignon Sandwich.
Our waitress, Anna Booth, made our choice simple when she said, "You have to get the Jumbo."
We obliged and each chose our toppings, ranging from lettuce, tomato, onions, cheese, relish, ketchup, mustard, bacon, hot peppers, and pretty much anything they had on hand. The toppings are picked-from-the-garden fresh and add that extra punch to the nicely seasoned beef.
Some burgers come with fries, and if they don't, you can order a small portion for $2, or a large for $3. The burgers are served on hard crust white bread. We thought this could lead to a soggy disaster, but the bread was soft and held up throughout our meal.
I had my Jumbo with lettuce, tomato, onions, provolone cheese and hot peppers. I eat a lot of hot peppers, but these were some of the best I've had. They had a great kick to them and really enhanced the burger.
Ralph's son Phillip says he grows and makes the hot peppers himself and has a field of hot peppers ready for this coming canning season.
JT also had the hot peppers on his Jumbo, and said: "I don't usually get hot peppers on my burger, but once in a while I get a hankering. So when I heard the peppers were homemade, it was on! I have to confess, I was a little disappointed when I saw only a few red strips of peppers peeking through the bacon. But, now I understand, with extreme HD clarity, why there weren't more. With all of my heart, I would like to thank the cook who prepared my burger for not using more! The very first bite brought me to tears! The hottest peppers I've had in a long time! And so good that I couldn't let one precious strip go uneaten, no matter the cost that I will most certainly pay."
John said: "The Golden Dawn had a homey feel to it. It was like I made the burgers at my house, got all the toppings ready to go, and ...forgot the buns at the store. Aside from the bread, which actually held up well to my surprise, the burger itself was really good. The meat was cooked just right and everything blended together well."
If you are looking for a slice of Americana, look no further than the Golden Dawn Restaurant.
The Naples brothers learned from their parents that if you offer a good quality meal with a great family atmosphere at an affordable price, you will have learned everything you need from the past to have a successful future.
You won't need a lot of money to enjoy this slice of Youngstown Americana, but you will need cash, because they do not take credit cards.
Keep sending all the great burger suggestions to mvbrb@hotmail.com, and like the Facebook page BurgerGuyz to keep up with all your latest burger news.