Four Mill Creek baseball teams win state championships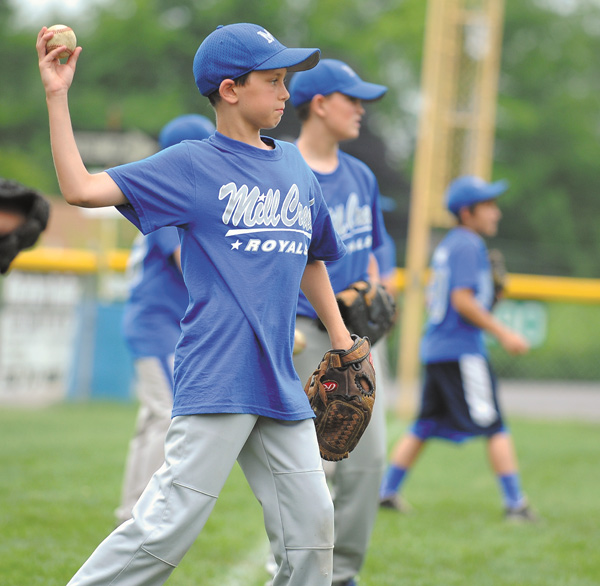 ---
Mill Creek Milestones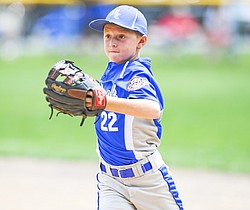 Gallery
4 baseball teams win state championships
By Brandon Judeh
youngstown
For the first time, four Mill Creek baseball teams have each won Cal Ripken state championships in the same season and three of them will be headed to their respective regional tournaments.
"Twelve guys, one team, one goal," has been the season-long motto for the Mill Creek 10-year-old team.
Last week the 10-year-olds reached their goal by capturing the Cal Ripken state title.
"It was great seeing the kids enjoy the victory," said 10-year-olds coach Ray Lewis. "They felt like they had just won the World Series, they were throwing water on each other and having a great time."
The next stop for the state champions will be Somerset, Ind., Wednesday-Sunday for the regional tournament.
"These kids are a very confident bunch that want to keep flying high and keep their winning streak alive," Lewis said.
The team's winning streak, as of Friday, stood at 12 in a row after starting out the season 0-1.
"These guys work very hard and put in a ton of time," Lewis said. "They sacrifice their summers and are very committed to the game. All of them have bought in to the whole team-first philosophy."
Though the entire team has been on a roll, two pitchers — Jeremy Kreuzwieser and Anthony "Nooch" DeCato — helped carry the all-stars in the state semifinals and finals.
Kreuzwieser pitched a no-hitter in the semifinals and DeCato threw a complete game in the championship.
"I can't say enough about this entire team and how great they are playing," Lewis said. "I have a good feeling about how well they will do in regionals."
Joining the 10-year-olds as state champions are the Mill Creek 12-year-olds, who will next be headed to Matoon, Ill., Wednesday-Sunday to participate in regionals.
The 12-year-olds boast a 13-7 record that head coach Dave Stauffer credits to his team's hard work and dedication.
"The core of this team has been together for three years now and all 13 players have really embraced their roles," Stauffer said. "Every single player has made a major contribution and I really appreciate how hard they work and all the time they put in. The talent level between all 13 players is so close."
Perhaps the most impressive thing about the 12-year-olds advancing to regionals is how this Mill Creek team did it.
After losing their first playoff game, the team had to reel off five wins in a row in 90-degree weather just to advance.
Though it was a tall task, Stauffer said his boys knew what they had to do.
"They have been trying for three years to get to this point, so there was no doubt they were going to give it their all," he said. "They were overjoyed, thrilled and relieved when they won the state championship. I am so proud of them."
The 12-year-olds are led by Joel Kreuzwieser, Mike Budde, Dominic Montalbano and Cameron Burton. If they win the Illinois regional, the next stop will be Aberdeen, Md., for the Cal Ripken World Series.
"The great thing about the Cal Ripken league is the field is bigger, there are leadoffs, balks and the bases are longer. The kids really enjoy it," Stauffer said.
The 11-year-old all-stars have been very successful through their young careers, winning three state championships and district titles.
This year the team is looking to meet another goal, their first regional championship. They will get that chance July 31-Aug. 4 in Gaylesburg, Ind.
After going 13-3 this season and 40-6 over the past three seasons, head coach Rob Armeni says his team is excited to take another shot at making the national tournament.
"These kids have been at it for three years with the goal of a national championship," Armeni said. "We played some power ball this year. We hit a lot of home runs all while playing on a bigger field. I'm really excited for these kids."
The success comes as no surprise as both Armeni and assistant coach Rick Havrilla played baseball at Youngstown State University. Their knowledge and experience of the game has paid off greatly for the youngsters.
"I push philosophy, one of the most important things I learned from my YSU baseball coach, John Zizzo, was take care of the little things and big things will take care of themselves," Armeni said.
The Mill Creek 11-year-olds are led by Vincent Armeni, AJ Winterburn and Ricky Havrilla. Their leadership and team-wide contributions have been critical to the team's success.
"We keep getting better," Armeni said. "We won three or four regional games last year, so we want to build on that and become the first Mill Creek team to win regionals."
The 9-and-under Mill Creek team also won a state championship, but will not be making the trip to Conersville, Ind., for the regional tournament.
Their run was made even more impressive because of their brutal tournament runs prior to state, where they played many 10-year-old teams.