Tri-Lakes library branch opens at 13820 Mahoning Ave.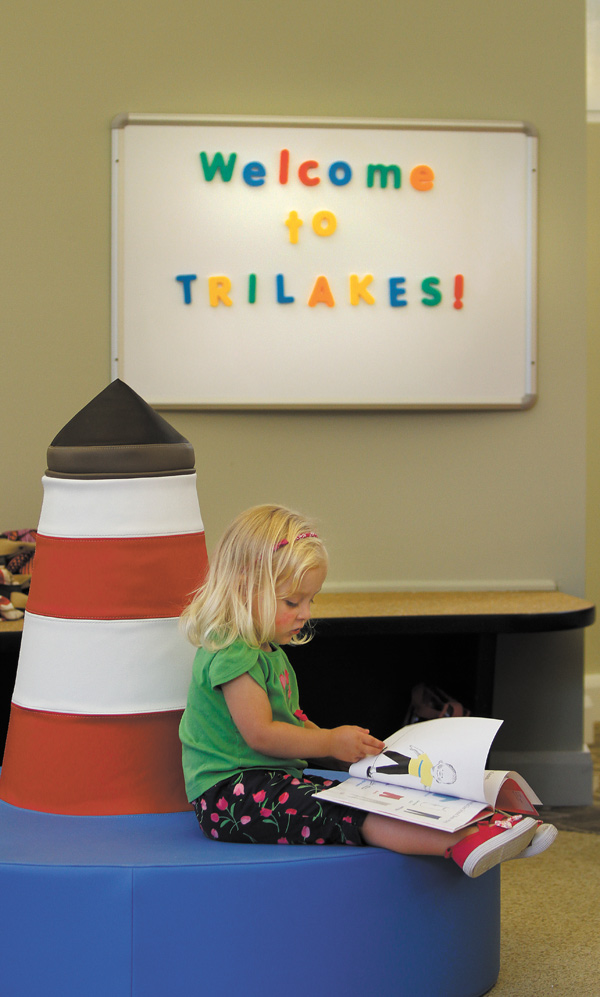 ---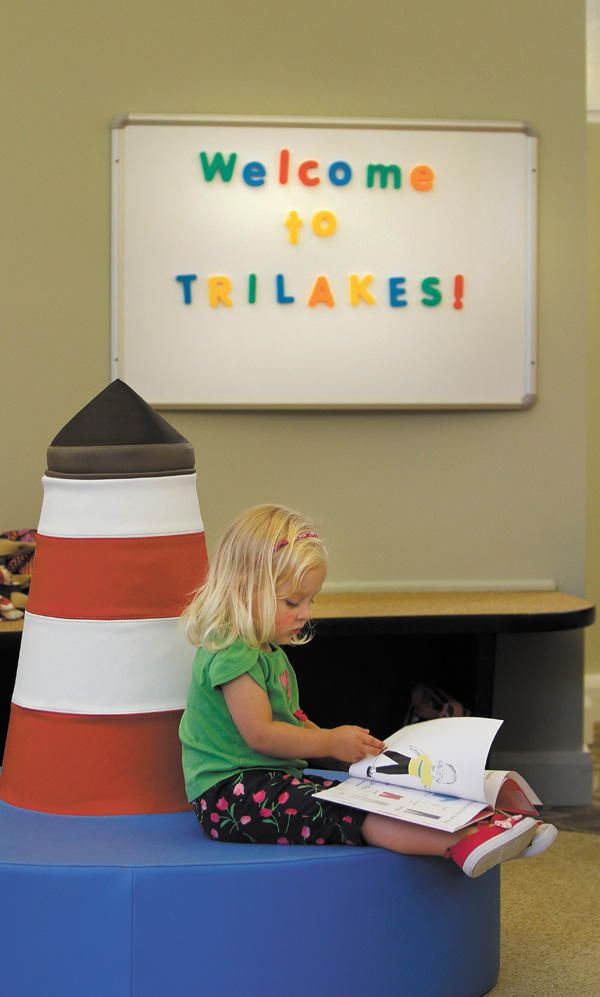 Photo
Gwen Gamble, 2, looks at a book at the Tri-Lakes branch of the Public Library of Youngstown and Mahoning County, 13820 Mahoning Ave., North Jackson. The new library has a lake theme with kayaks, books and lighthouse chairs. Gwen was there Monday with her mom, Jackie.
By Sean Barron
NORTH JACKSON
It sports several kayaks that hold books, a caterpillar-shaped table and a small lighthouse on which children can sit.
Welcome to the Tri-Lakes branch of the Public Library of Youngstown and Mahoning County.
"It gives the community more square footage, as well as more books, movies and an expanded children's area," library Director Heidi M. Daniel said during Monday's opening of the $2.04 million library at 13820 Mahoning Ave.
The new facility represents the merger of the former Lake Milton/Craig Beach and North Jackson branches, both of which closed late last month.
Daniel touted numerous features in the 6,270-square-foot building, such as the retro-fitted kayaks filled with children's materials, bright wave-shaped benches and the foam lighthouse.
Those, along with the library's name, symbolize the branch's proximity to Lake Milton, Meander Reservoir and Berlin Lake.
Other offerings include a soundproof study area, a meeting room for community groups and programs, six computer stations with Internet access, a section for teenagers with a variety of computer games and an all-purpose service desk near the entrance.
Posted throughout the library are signs denoting nonfiction, mysteries and other genres, as opposed to the traditional numerical system, Daniel continued, adding that people also will be able to check out bestsellers for up to seven days.
In addition, she said, the branch has plenty of windows to maximize natural lighting and that look out onto surrounding woods, an outdoor walking trail lined with benches and an expanded children's section.
The larger area for youngsters sits well with Jackie Gamble of North Jackson, who brought her 2-year-old daughter, Gwen Gamble, to the library Monday.
"The kids section is great," said Gamble, who intends to return to Malone College in Canton to earn a master's degree in clinical counseling. "I feel that kids are welcome, and that [the branch] is almost made for the kids."
Gamble said she plans to visit the library at least once a week and predicted that her sister, a Berlin Center resident, will bring her four young children regularly.
Helping to set up the Tri-Lakes branch was Deborah McCullough, public-service operations manager.
Even though the branch likely will serve mainly Craig Beach, Lake Milton and North Jackson, it is hoped that patrons from surrounding areas also will use the facility, Daniel said.
"I hope that we will see all of the other communities out here as well," the director added.
A dedication ceremony for the new branch is set for 5 p.m. Aug. 13 at the facility, noted Janet S. Loew, public-relations director.