Northbound Market Street travelers are greeted with the city's largest mural Leaving an impression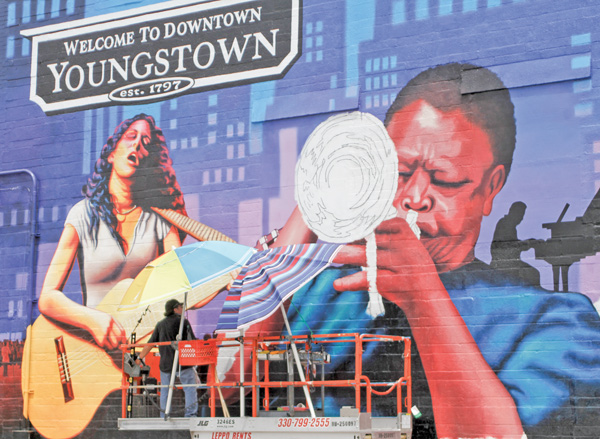 ---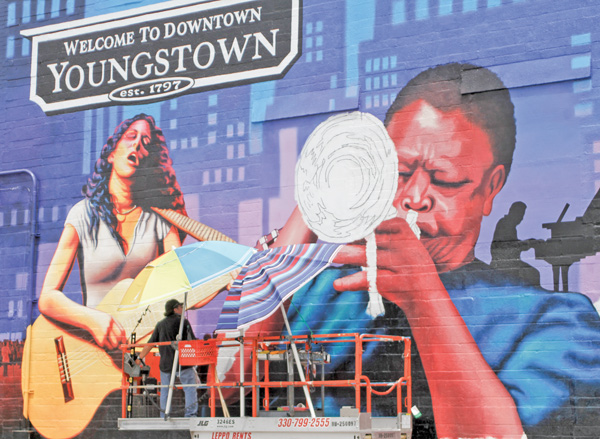 Photo
A vacant building on Market Street, just south of downtown, will get an exterior makeover with a mural that celebrates the city's downtown nightlife.
STORY & PHOTOS
YOUNGSTOWN
Welcome to Bourbon Street North, better known as Market Street, as Christian Mrosko of Liberty, a pictorial artist, puts his mark on the city and gives a treat to travelers to downtown as they head northbound on Market Street ready to cross the Market Street bridge.
The Larew Building (formerly Gollan's Honda Motorcycle Sales) was chosen as the site for Mrosko's latest project as a gift from Richard Billak. He's the Community Correction Association's chief executive officer who will retire at the end of the year. CCA is a halfway house that Billak co-founded in 1974. The organization has been instru- mental for more than a decade in helping to clean up and beautify the Market Street corridor.
Starting in April, the building underwent a transformation to become a consignment shop, and it now displays the city's latest mural, which cost $15,000.
Painstaking detail brings the images almost to life. During the painting, passers-by usually would beep and wave at Mrosko as he worked on the four-month project.
The mural celebrates the city's downtown nightlife and will be formally dedicated at the end of this month.