South Range senior plans car show as school project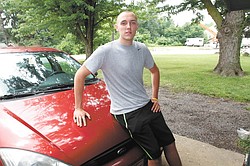 Photo
Justin Sikora is a senior at South Range High School who is organizing a car/truck show to benefit the Easter Seals as part of his senior project. ROBERT K. YOSAY | THE VINDICATOR
By Sean Barron
NORTH LIMA
Simple arithmetic is one way to demonstrate Justin Sikora's love for a 4-year-old family member. That's because his love of vehicles, a desire to contribute to his community and his deep appreciation for Easter Seals add up to a car show he's organizing to benefit the agency.
"She was in a body cast three times and had a series of hip surgeries and eye surgeries," the 17-year-old South Range High School student said, referring to 4-year-old Addy Miller of Valley Grove, W.Va.
She is the granddaughter of Jim Miller, whose fianc e is Justin's mother, Tracy Sikora.
Addy was born 15 weeks prematurely and weighed 24 ounces at birth. The infant spent most of the first nine months of her life at Allegheny General Hospital in Pittsburgh after having been delivered via an emergency Caesarean section at Wheeling General Hospital in Wheeling, W.Va.
"When she was born, I could hold her in the palm of my hand," recalled Miller, a local truck driver.
Early on, Addy had to be fed intravenously and suffered an infection during the first week of her life. She also underwent two laser surgeries to save the retina in her left eye and wore body casts to correct a hip deformity, Miller explained.
Thanks to Easter Seals, though, Addy has seen tremendous improvement in such basic tasks as eating, chewing and dressing herself. More recently, she has used a treadmill to improve her walking and stair-climbing abilities, he continued, adding that Addy also has attended preschool.
"She walks now, and I can't get her to sit still. She's making up for lost time," Miller added.
Today, Addy has blossomed into an outgoing little girl who loves to converse with most people and enjoys playing in her backyard playground, Miller and Justin said.
To thank Easter Seals for its work with Addy, perform a community service as his high school project and get more immersed in his love of cars and trucks, Justin and his mother came up with the idea to host the car show, which is set for noon to 5 p.m. Aug. 24 at South Range High, 11300 Canfield-Columbiana Road (state Route 46) in Canfield.
His goal is to raise at least $500 for the organization, said Justin, who plans to take welding courses at ITT Technical School after high school and who enjoys physical fitness, hunting and riding four-wheel vehicles.
Justin, who works at Village Plaza Sparkle Market in Columbiana, also relishes the bond he has with Addy as well as the time they spend together.
"There's not a day that goes by that she doesn't ask, 'Where's Justin?'" said Tracy, a manager for a Giant Eagle grocery store in Chippewa, Pa.
Despite everything Addy has endured in her young life, she continues to progress, her family says proudly. But her grandfather keeps a firm perspective on her largest accomplishment.
"The fact that she survived, that's the biggest achievement of all," Miller said.