The Niemis celebrate their 60th anniversary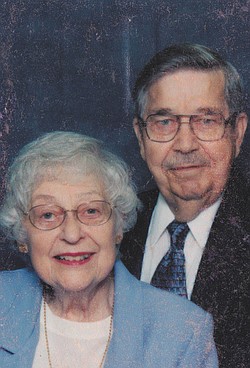 Photo
The Rev. and Mrs. Wayne Niemi
BOARDMAN
The Rev. and Mrs. Wayne Niemi of Boardman celebrated their 60th wedding anniversary July 11 when their children and grandchildren feted them at a dinner at the Welshfield Inn.
Their children are Helen (Philip) Hudak of Phoenix; Duane Niemi of Youngstown; Bryan Niemi of Jacksonville, Fla.; and Eric (Wynona) of Tucson, Ariz. The Niemis also have two grandchildren, Rachel (Brian) Butts of Phoenix and Beth (Wayne) Cox of Miamisburg, Ohio; and one great-grandchild, Kenzi Butts.
The couple were married July 11, 1953.
Mrs. Niemi, the former Erika Ruth Staub, was a teacher in McGregor, Minn. She also taught science, math and German at Suomi College. She has served as a tutor for Boardman, Youngstown and Lake County schools.
The Rev. Mr. Niemi served as a minister for 38 years in South Dakota, Minnesota and Ohio, including St. Mark Church in Warren and Bethlehem Lutheran Church in Youngstown.
Early in his ministry he was a guest preacher for three months for the Lutheran Church of Finland.
He served as the vice president of the National Finnish Linguistic Conference more than 10 years and as president of the Lake Erie Area Linguistic Conference for many years.
After his retirement in 1991, he served intermittently as an interim and supply pastor in the Youngstown area for 20 years.
The Niemis are members of Bethel Lutheran Church.
More like this from vindy.com