Solve mystery in history at Heritage Day in Niles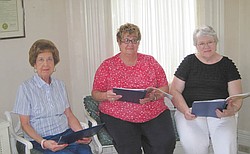 Photo
SPECIAL TO THE VINDICATOR: The following women are committee members for the Niles Historical Society's upcoming Heritage Day, on Aug. 4. From left are Nancy Malone, president of the Niles Historical Society; Sandy Bilovesky, vice president, and Letha Pihonsky, secretary.
Staff report
NILES
The Niles Historical Society is preparing for Heritage Day, from noon to 5 p.m. Aug. 4 at the Ward Thomas Museum, 503 Brown St.
Among the displays to view at the museum will be a 120 pencil-sharpener collection the museum received as a donation recently. Also to be seen are old wedding gowns, children's toys and gowns of first ladies, as well as collections of china, jewelry, Niles business, sports, war memorabilia and a special school display.
Civil War actors will answer questions as visitors walk through the many rooms viewing an antique button collection and demonstrations of chair caning and quilting as well as a collection of wood from all over the world.
Food, beverages and live music await as you and your child watch for "Castle on a Cloud" storybook characters, who make the stories come alive.
Other activities and crafts will be geared for children, and Rick Muccio will be available to draw likenesses. A bake sale and basket raffle will top off the day. Special displays will grace the buildings. An outdoor treat awaits in the manicured grounds surrounding the beautiful flower gardens.
Admission is $5 for adults and free for children under 12 who are accompanied by an adult. There is no charge for parking. For information call 330-544-2143.