YSU grad opens artisan market in Canfield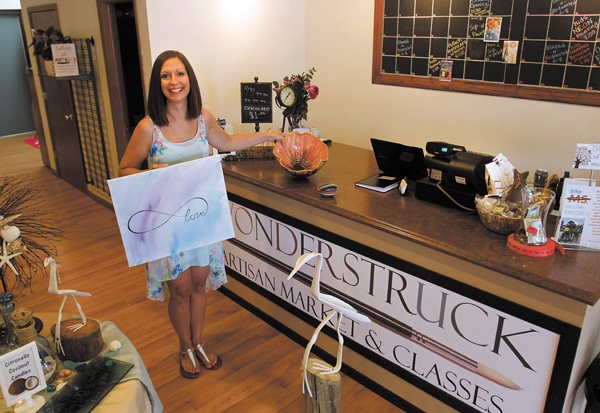 ---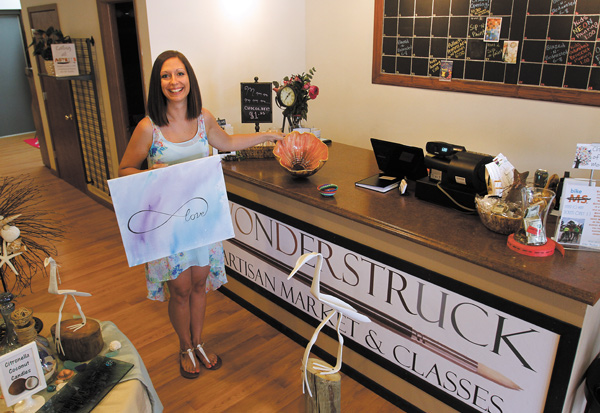 Photo
Stephanie Miller, a Youngstown State University graduate, is owner of Wonderstruck Artisan Market & Classes that recently opened in Canfield. Handmade jewelry, artwork and decor are just some of the items sold at Wonderstruck.
By KALEA HALL
khall@vindy.com
CANFIELD
Stephanie Miller knew exactly what she wanted to do in life, and last October, she decided to make her dream become a reality.
Miller wanted to open a business, but not just any business.
She wanted to sell handmade items and provide art classes that would make her customers "Wonderstruck."
Last Friday, Miller had the official grand opening of Wonderstruck Artisan Market & Classes, where PVC pipe crane sculptures, pottery, handmade coats, handbags, jewelry, decor, candles, soaps, chocolate and even puppy treats are sold.
Even though she is just at the beginning of running her business, Miller is constantly developing new ideas for where to take the business she always wanted.
"If you love what you do, you will not work a day in your life," Miller said.
Miller, 29, graduated from Youngstown State University with a bachelor's degree of fine arts in fine and performing arts with a concentration in art and technology and a minor in art history. Miller said it was difficult finding a job in her field, so she went on to become a manager for Walgreens, but she knew that wasn't what she wanted to do for the rest of her working life.
"I kind of always wanted to own my own business," Miller said.
While she managed Walgreens for more than five years, Miller made jewelry and continued to paint. Miller would sell her art and handmade jewelry at craft shows and on eBay. While driving to work one day last October, Miller developed the idea of having a business that would function like a craft market. She also wanted
to offer art classes for children and adults.
"I wanted to house my things in a shop, but I couldn't find one," Miller said. "[I thought] if this doesn't exist, why don't I make it?"
That thought brought Miller to utilize the SCORE team at YSU's Williamson School of Business. The team helped her write a business plan, develop ideas for the business and work through them. The team also helped her with advertising.
"I was an art graduate, not a business graduate," Miller said.
Miller's experience as a manager also helped her develop the business, in addition to the team's help and help from other area artists that agreed to be vendors in her shop. Bob Barko Jr., owner of Steel Town Studios, makes fine graphic art of Youngstown's pop culture. Barko used to own a gallery space where he sold his art, and wanted to give Miller any advice he could for her business venture. He told her where she should purchase fixtures and other items.
"There are not a lot of places like [Wonderstruck] in the area," Barko said. "I like the concept of being able to participate in a community artisan market."
Barko's art can be found at Wonderstruck along with the 11 other vendors Miller houses. Within the next couple of months, Miller wants to double the number of vendors she has in the store. She also wants to add more paint classes, possibly a soap-making class and a glass-blowing class.
"Even if I do not do it, I will hopefully learn and teach others those [crafts]," Miller said.
Miller offers children painting classes and three different levels of adult painting classes. Today is the first "Sip and Paint" class where the painters provide their own wine and Miller provides the paint. All classes are half off throughout July and August. Miller also will offer art classes to celebrate birthdays, weddings, or any party a customer wants to have. There is even a homemade cake-pop maker who can provide cake for the party.
"The more I can offer the better," Miller said.
Wonderstruck Artisan Market & Classes can be found in The Shoppes at Coal Creek on Canfield Road. For information
about Wonderstruck Artisan Market & Classes, visit wonderstruckmarket.com.