Former YSU pitcher Thomas playing in Japan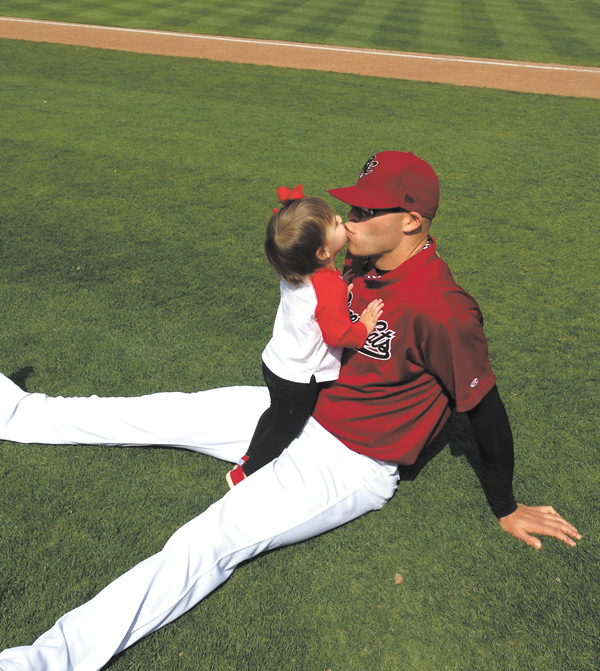 ---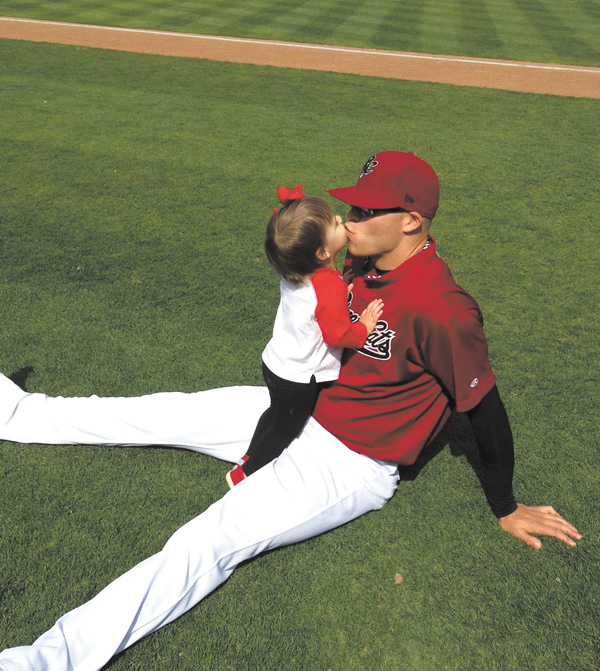 Photo
In this family photo, Justin Thomas receives a kiss from his daughter Ella. Thomas, a fourth-round draft pick by the Seattle Mariners in 2004 out of Youngstown State, just inked a deal to play pro ball in the Japanese Baseball League with the Nippon-Ham Fighters.
Former YSU pitcher, family embark on long road trip
By Joe Scalzo
YOUNGSTOWN
He's 6,500 miles from his wife and 20-month-old daughter, he plays for a team that most people assume is called the "Ham Fighters" and his diet this week included something called "creamy sea urchin pasta."
When Justin Thomas grew up dreaming about playing professional baseball, none of that was part of the plan.
But after three mostly frustrating months with the Sacramento River Cats, a Triple-A team located just 90 minutes from the Oakland Athletics, Thomas decided the fastest way to get back to the major leagues was to take a little detour.
To Japan.
"I have traveled all over the world playing baseball," said Thomas, a fourth-round draft pick by the Seattle Mariners in 2004 out of Youngstown State. "I knew from friends of mine that have played here that it would be a once-in-a-lifetime opportunity."
After brief relief stints with the Boston Red Sox (seven games) and the New York Yankees (four games) last season, Thomas drew interest from several teams in Japan and Korea after the season, but instead decided to sign a free agent deal with the A's. The deal included an opt-out clause if he was not in the major leagues by July 1.
With Oakland leading the American League West and Thomas putting up mediocre numbers in Sacramento (a 3-6 record and 4.48 ERA in 16 starts), he decided to make a change. The Nippon-Ham Fighters offered a guaranteed contract with an option for next season.
So, in early July, he spent a week with his family in Orrville, Ohio (his offseason home), then boarded a 13-hour flight to Tokyo, where he quickly learned four things about Japan: they drive on the left, tipping is frowned upon, you can smoke anywhere and, yes, they have Starbucks.
Oh, and one more thing: The money he spent on a Slingbox was worth it, allowing him to watch Sunday's Sportscenter and Monday's Home Run Derby from his home TV.
"I can control my DVR too?" he tweeted. "Yeah buddy!"
The Fighters play in Sapporo, which is located on a northern island in Japan. They're owned by Nippon-Ham, a major Japanese food processing company, and play in the six-team Pacific League, which is sort of the American League of the Japanese Baseball League. (The six-team Central League is the National League version.)
The Fighters won the pennant last season before falling in the World Series, but aren't doing as well this summer.
The top three teams from both divisions make the playoffs. As of Thursday, Nippon-Ham (40-41-1) was in fourth.
Because just five import players (i.e. non-Japanese citizens) can play on an active roster, Thomas feels lucky to have a spot. On Wednesday, he threw for the first time in nearly a month and is scheduled to make a minor league start on Tuesday. If it goes well, he could make one more start or be added to the major league roster on Aug. 1.
If/when that happens, his wife (Theresa) and daughter (Ella) will join him.
How does Theresa feel about it?
"I have always been supportive of every baseball decision Justin has made and I trust that whatever he decides its in the best interest for our family and future," she wrote, via email. "I have never had the desire to go [to Japan], but after meeting other wives that have spent time over there, it sounds like a great place. I have heard some great stories from other baseball wives so I can't wait to see what it is all about."
Fortunately, Ella is good with travel — "We have been blessed with a VERY easy-going child," Theresa said — and the Thomases are viewing it as an adventure.
"When we got pregnant with our daughter we made the commitment that we would travel with him full-time so that we could be together as much as possible," she said. "I know that this will not be our life forever, so for now I just try and enjoy every moment we have together. I am watching my husband live his dream everyday and it doesn't really get better than that!"
Neither of them speak any Japanese — "We have two translators that are extremely helpful, which makes life here a lot easier," he said — and Theresa admits she's a little nervous about the food, but there's an old Japanese proverb that says "Fall seven times, stand up eight."
It's good advice for pitchers, and it's good advice for three Ohioans trying to make sense of a new country.
"I am trying not to have too many expectations going into it all," Theresa said. "We are going to try and take one day at a time while soaking up the whole experience together. I know this is something has dreamed of doing and I really want to see him succeed.
"He is ready to make a name for himself over there and show them how great of a pitcher he is."