Author's sister visits Boardman library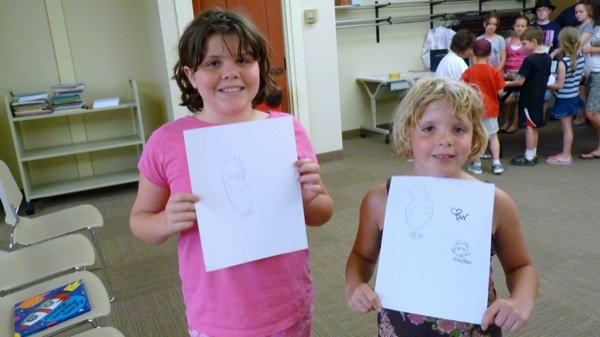 ---
By ELISE McKEOWN SKOLNICK
Children met the inspiration behind D.W. – Arthur's pesky little sister in the book series by Marc Brown – and learned a little about the author at the same time June 28 at the Boardman library. Kim Brown, Brown's real-life sister and the basis for D.W., came to share stories about her famous brother.
The first Arthur book, she told those in attendance, came about because Marc's oldest son wanted to hear a bedtime story. Marc came up with the tale of Arthur the Aardvark. His son loved the story and begged for it night after night. It eventually became the first Arthur book, "Arthur's Nose." Now, 36 years later, more than 65 million Arthur books have been sold world-wide and the series has been turned into a television show.
As part of her presentation, Kim showed a slide show that included pictures of the family when she and Marc were children.
"He's a big goofball," she said about her brother. "He's got a really great sense of humor. He's super fun to be around."
Marc regularly draws from real life when creating situations and characters, Kim said. She is the inspiration behind D.W., Arthur's baby sister Kate came about when Marc's third child was born, and Arthur's strict teacher, Mr. Ratburn, is based on a real teacher.
Laura Byler said she'd be "really happy" if her brother wrote a book about her. She is a fan of the Arthur series and D.W.
"I loved it,"Byler said, about Kim's presentation. "I like when she taught us how to draw Arthur."
Kim showed the children how to draw Arthur in eight steps. Each child had their picture stamped with Marc Brown's signature.
Alexis Angus didn't know D.W. was based on Marc Brown's sister.
"It's cool," Angus said.
Kim also answered the children's questions, read "D.W. the Picky Eater," and showed how an Arthur book is made.