3 Valley high school football players chosen for NFL camp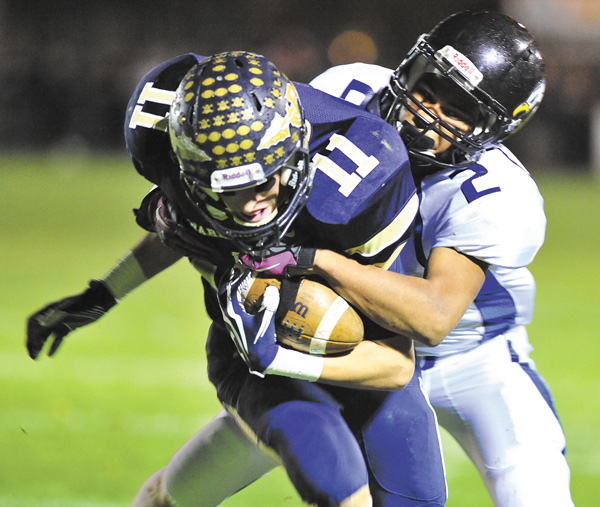 Photo
Youngstown Christian's Darien Townsend (2) was one of three area football players who represented the Cleveland Browns at the recent NFL High School Player Development national tournament in Berea. Joining Townsend at the camp were teammate Tymere Dubose and Sam Steininger of Western Reserve.
By Joe Scalzo
YOUNGSTOWN
John Greco and Ishmaa'ily Kitchen aren't the only Mahoning Valley natives who played for the Cleveland Browns this summer.
Youngstown Christian teammates Tymere Dubose and Darien Townsend and Western Reserve lineman Sam Steininger were chosen to represent the Browns at the recent NFL High School Player Development national tournament in Berea.
Dubose and Steininger helped the Browns place first on Tuesday in the Lineman Challenge, a team competition involving a bevy of drills and obstacles like tug-of-war, sandbag and medicine ball tosses, tire pulling, cone drills and shuttle drills.
Townsend played for the Browns' 7-on-7 team, which went 5-3 last weekend in a competition won by the Detroit Lions' team.
The two competitions featured top high school players from across the country. The Browns' team was made up of northeast Ohioans who were first chosen from local camps (the Youngstown-area camp was held at Girard in early June), then from a regional camp (Cleveland's was held at FirstEnergy Stadium on June 29 with campers from Canton, Akron and Cleveland).
"It was kind of mind-boggling to be competing against some of the best linemen in the country," Steininger said. "Plus they gave us a lot of great gear and we got to meet some NFL players who taught a lot of life lessons."
Added Dubose, who has already verbally committed to Kentucky, "I felt like I got better. I did some drills I've never done before and it made me more prepared."
Coincidentally, none of the three players are Browns fans — Steininger likes the Packers, Townsend is a Saints fan and Dubose's whole family roots for the Steelers, which he said made for some funny comments — but they enjoyed the chance to play in an NFL stadium and on an NFL practice field.
"It's always been my dream to play in the NFL, so it was good to play there," said Townsend, whose father is a Browns fan. "I think I improved a lot [over the past month] going against some of the top talent in the country. I just played a whole bunch of 7-on-7 and it was a great experience to meet all the kids and see all the talent out there."
Added Steininger, "I was more interested in meeting all the different guys. The stadium was just a bonus.
"One kid there had 40 [scholarship] offers from the SEC and the Big Ten and I'm going to Division II, so it was good to compete against guys like that. But you have to stay humble. Even though I've gone to nationals, I still have a football season to think about. We don't have any wins yet."
In addition to football instruction, campers learned about concussion awareness, NCAA guidelines, time management and social media.
"We met some NFL players who put in perspective what the road is like, and how you need to do the right things," said Steininger, who met former Packers wide receiver Antonio Freeman. "They addressed a lot with social media, like Twitter and Facebook and how players need to be careful about what they say."
The NFLHSPD is sponsored by the National Guard and focuses primarily on underserved communities. Townsend and Dubose said they're happy they've been able to draw attention to YCS's developing program.
"We want to put our school on the map," Dubose said.
Added Townsend, "Our freshman year, nobody knew who we were. They didn't even know we had a football team. So it's good getting some positive energy and get the community behind us."