Youngstown official: 'No way around' paying fired cop
---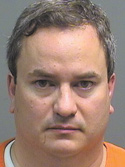 Photo
Police detective will receive a $22,906 severance package
YOUNGSTOWN
The city has no choice but to pay a $22,906.21 severance package to former police Detective Sgt. Robert Lodwick, fired after being charged with two felonies, its law director says.
"Any illegal conduct that he may have committed or abhorrent behavior he may have engaged in does not provide us a legal rationale to not pay him the money he has already earned," said city Law Director Anthony Farris. "There's no way around it. It was accrued."
The board of control, of which Farris is a member, will meet today with Lodwick's severance payment on the agenda.
Police charged Lodwick on June 7 with importuning and illegal use of a minor in nudity- oriented material. Lodwick is accused of inappropriate behavior with a 14-year-old female juvenile whose case he was investigating while a member of the department's Family Services Unit.
The city fired Lodwick on June 14 with Chief Rod Foley writing in a letter to him that he violated 13 standards of the department's code of conduct, including conduct unbecoming an officer, failure of good behavior, neglect of duty and abuse of position.
Lodwick was hired May 8, 2000, by the police department.
Lodwick's $22,906.21 severance package is based on his $28.5645 hourly salary as a detective sergeant, a position he had from December 2012 until his firing. He's receiving:
$11,839.99 for about 414.5 hours of unpaid accumulated work time.
$6,047.96 for 211.73 hours of unused vacation pay.
$5,605.78 for 560.72 hours of unused sick time paid at 35 percent of his hourly salary.
The city is subtracting $587.52 from the total it will give Lodwick because he received his full-year uniform allowance payment, but was on the force this year for a little more than five months, Farris said.