Jack Perry's Gastropub has grand opening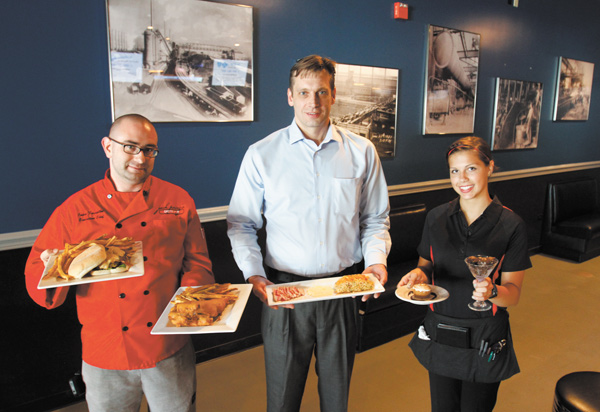 ---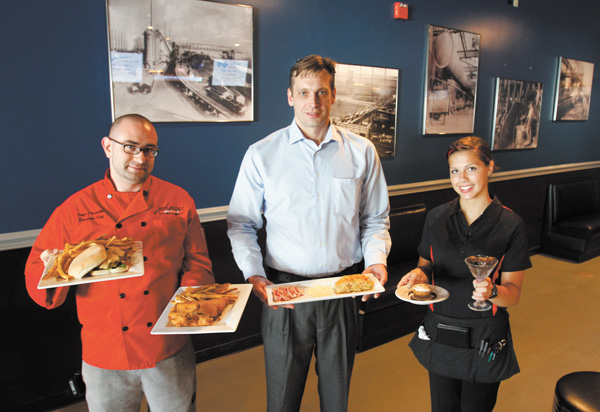 Photo
Head Chef John Forsythe, left, General Manager Jason Zishka and waitress Kayla Magni stand with entrees at Jack Perry's Gastropub, which had its grand opening Wednesday at 5529 Mahoning Ave. in Austintown.
Austintown
Jack Perry's Gastropub, a concept new to the Mahoning Valley but popularized in larger cities across the country in the past decade or so, officially opened its doors Wednesday with a grand opening.
The gastropub idea was formed in the United Kingdom and elsewhere in Europe in the late 20th century when food service started becoming more of a mainstay at traditional pubs, which long had been only watering holes serving little more than cold foods.
General Manager Jason Zishka said there is no true definition of a gastropub other than a bar that serves a variety of craft beers and comfort foods. The word is a spin on gastronomy, loosely defined in most dictionaries as the art or science of good eating.
At Jack Perry's, Zishka said the experience surrounds "discovering, tasting and experiencing food" with an emphasis on atmosphere and culture.
Throughout the 2000s, gastropubs had success in places such as San Francisco, New York City and Chicago, where owners focused on both beer and food to win over customers.
Jack Perry's, at 5529 Mahoning Ave. in the Weston Plaza, will set out to do the same as the Valley's first.
"We gutted the old [Jeremiah Bullfrog's] restaurant and replaced it with everything from the bar to the ceiling, and everything in between," said co-owner Dan Perry. "I don't want to give it away, but the bar is spectacular, featuring steel beams, glass block and a cement-style bar surface. It's reminiscent of the 1940s-era steel mills during Youngstown's golden age."
The gastropub has 25 craft beers on tap, and the menu was designed to be a "crowd pleaser" as Zishka explains it. Salads, burgers and desserts will round it out, with loftier dishes such as a signature tuna noodle casserole with Ahi tuna and orzo pasta included — all at moderate prices.
The gastropub is named after Dan Perry's late father, Jack Perry.
"The thought about honoring him in this way was not my original idea, but the more it was discussed between family and friends, the better I felt about it," Perry said.
Jack Perry's has been open since last week so management could prepare employees to provide a better experience for customers who arrived Wednesday for the grand opening.
Zishka said the gastropub already employs about 40 people.
On Saturday, in honor of Jack Perry's birthday, free smores desserts will be served with the order of any entree.