Youngstown committee considers eliminating park and rec commission
Tweet
Published: Thu, July 18, 2013 @ 12:04 a.m.
youngstown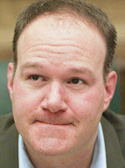 Photo
Charter amendment proposition would eliminate commission
YOUNGSTOWN
Some city council members say the park and recreation commission is no longer relevant and are strongly considering putting a charter amendment on the Nov. 5 ballot to eliminate it.
Council's park and playgrounds three-member committee, along with two other councilmen, met Wednesday to discuss the issue with Robert Burke, park and recreation director, and Law Director Anthony Farris.
Councilman Paul Drennen, D-5th, park and playground committee chairman, recommended a charter amendment to get rid of the park and recreation commission, created in 1935.
But the two other council members on the committee — Mike Ray, D-4th, and Janet Tarpley, D-6th — along with Councilman Nate Pinkard, D-3rd, suggested another meeting before a vote recommending city council put the issue before voters.
Council has until Sept. 6 to submit language for charter amendments for the November election to the Mahoning County Board of Elections.
The committee will meet Aug. 7 to hear further input. If recommended, council would need to have a special meeting to approve ballot language by at least a two-thirds vote.
There's been long-standing tension between the commission, and city council and the administration.
In November 2007, city voters approved an overhaul of the park and recreation commission, which has five unpaid members. The charter amendments stripped the commission of having the power to hire any employees except the director, and required all commission contracts and purchases to be approved by city council and the board of control, which consists of the mayor, law director and finance director.
Last month, Mayor Charles Sammarone removed Terri Bryant from the commission for what he called "gross neglect of duty" because she missed a number of meetings. Bryant and other commission members said the decision was unfair and questioned the mayor's motives.
Drennen said, "I can't see the relevance to having a board. I don't ever need to go through the commission for anything."
When asked why eliminating the commission came up now, Drennen said, "It's come to our attention they want everything to go through them. It's an extra layer of red tape."
Councilman John R. Swierz, D-7th, said it would be more efficient to not have the commission, and have Burke continue to report to the mayor and council.
Burke and Farris agree.
"It serves no purpose; there's no benefit," Farris said of keeping the commission.
While providing additional voices for discussion, Burke said overall, the commission is "not beneficial," and he can get input on park issues from council.
Sammarone didn't attend the meeting, but told The Vindicator he saw no need for the commission.
"They're more of an advisory board," he said. "I don't need any more advisers. I have 65,000 [residents] in Youngstown. How many more advisers do I need?"
Removing the commission would "take away a level of bureaucracy," Ray said. Also, "this might be the right time to make a change," he said.
Drennen complained that the commission was moving ahead with an effort to seek proposals from firms to develop a comprehensive plan for the city's park system. But council gave the commission approval to seek proposals, but not select a firm, in May.
Attempts late Wednesday by The Vindicator to get in touch with Anthony Spano, the commission's chairman, and Nancy Walker-McCain, vice chairwoman, were unsuccessful. Recently, the two have said the commission works well together with the goal of improving the city's parks.
Drennen said he doesn't object to commission members speaking at the Aug. 7 meeting.