For fabulous food, go to local growers Freshly homemade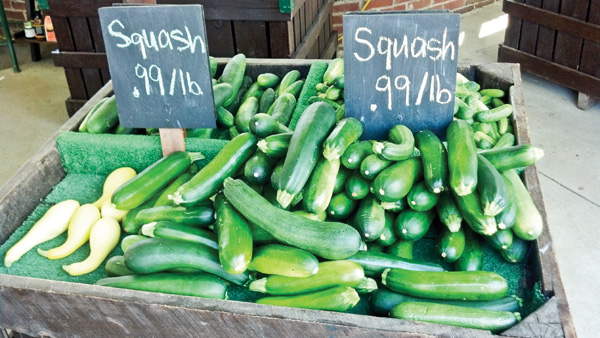 ---
By Barb Delisio
OSU Ext. Master Gardener Volunteer
I have a few favorite times of the year, but for food, this is the best. Since early spring we've been eating green: spinach, lettuce, kale, swiss chard from our gardens. Now is the time to color it up with reds, yellows and oranges on our plates.
The farmers' markets, roadside stands, your own or your neighbor's backyard garden are the areas where we find the fabulous fresh foods of summer. The local early corn is now in season. We bought some last week at Poland Farm Market from a Canfield grower, and it was sweet, crisp and juicy.
There are a variety of farm markets in the area just about every day of the week: Thursday is Goodness Grows and the B&O Station; Friday is Poland Market; Saturday, visit Howland and North Side markets. More are listed in the Valley Grows calendar.
These markets have a variety of growers who offer homegrown or homemade vegetables, cut flowers, maple syrup, pies, bread and cookies. We also have the farmers who sell produce at their roadside stands in front of their farms. Vegetables are picked early in the day so you, the consumer, will have a choice in the fresh vegetables you want to eat.
Many farms even have a service called "pick your own." Strawberries, blueberries, green beans and tomatoes are sold at a lower price because you do the labor. Picking a bushel of green beans is an unforgettable experience — hours of back-breaking work, but you'll never forget it. These farm stands or markets are in all areas of the county. With White House Fruit Farm, Villa Marie Organic Farm, Molnar Farm, Angiuli's Farm, and many more, one could never say they can't find fresh, homegrown produce in the Mahoning Valley. Grow Youngstown is an organization that sells single and family shares of produce from farms throughout the area. It's run as a food co-op with shares sold at various times of the year, entitling you to pick up a box of locally grown produce weekly.
"Putting up" or canning or freezing fresh fruits is also popular. Strawberry season is almost gone, blueberries are in now, sour cherries and blackberries will be harvested in a few weeks. There is nothing like opening a jar of homemade jam for that toast or muffin when the fruit is out of season.
Heirloom tomatoes have become popular the last few years. The flavors of the Cherokee Purple, the green zebra, or the less acid yellow and orange are out there waiting for you to buy. Fresh green beans, one of the few greens we have to wait to ripen, are snap fresh. Cucumbers are sitting on the vine. The small, thin, 6-inch-or-so cukes are the ones to get for the best flavor. They're sweet and crisp and usually can be eaten without being peeled. A large cucumber can become bitter if it's left on the vine too long.
Listings of local farms and farmers markets can be found at: http://ohiomarketmaker.com; http://ourohio.org; www.realfoodreallocalinstitute.org.