Driving range dream comes true for Mill Creek's Miller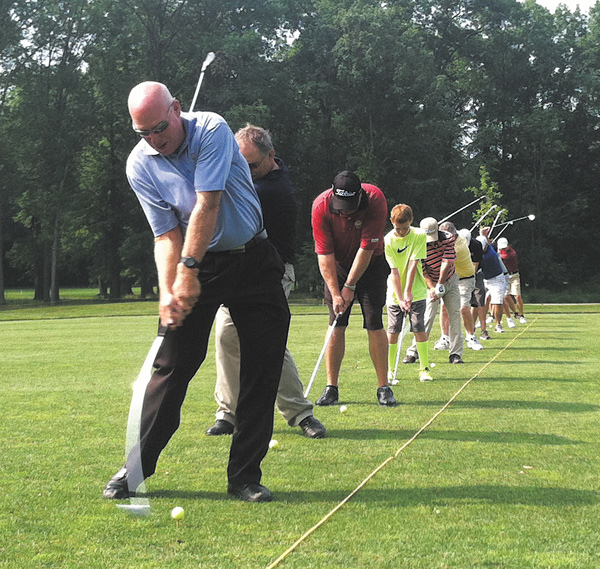 ---

Photo
Dennis Miller, Mill Creek Park Golf Course golf pro and executive director, and nine others teed off Wednesday at the course's new practice range. The facility is open to the public, but also will be utilized to teach Mahoning Valley youth.
BOARDMAN
The dream golf pro Dennis Miller has had for several years is finally real.
About 40 people watched as one of Mill Creek Park Golf Course's professionals hit his ball about 300 yards straight down the fairway of the park's practice range.
"This is a dream of mine since I got here," said Miller, Mill Creek Park golf pro and executive director. "This is the final piece of the puzzle, and my passion is golf.
"Just to be able to say that I was a part of this is just very special."
Wednesday, Mill Creek Park officials celebrated the practice facility's opening with remarks and a celebratory tee off.
Ten teed off, then several others asked Miller and Andy Santor, another Mill Creek pro, questions during a brief training session.
"Golf is something we take very seriously," Santor said. "There's just so much more we can do now to promote the game we love. It really sets the tone for us to do our jobs better."
Many people and organizations are responsible for the practice range being built. Miller said without the support, he doesn't know what or where the golf course would be today.
Santor agreed.
"It shows you the support that we have, and what a great community we live in," Santor said. "The people are willing to contribute to something like that because they see it's more than just a practice range."
The range is open to the public but will mainly be utilized as a place to help Mahoning Valley youth perfect their golf game.
"It's a place where the youth and people who don't play the sport can come and take it up and enjoy it, and we can promote our game," Miller said.
Employees at Golf Headquarters also plan to utilize the practice range.
Steve Thomas, who works at Golf Headquarters, said they'll be using the facility for training, demos and club fittings beginning next season.
"I think it's going to benefit us, and it will definitely benefit a lot of the golfers around here too," Thomas said. "We've been yearning for a good driving range for years."
The range is more than 300 yards long and includes eight greens and 11 target flags, and 14 mats. There's also a practice fairway bunker coming soon.
"You can hit any club in your bag," Miller said. "We're excited. It was a long-time coming and a dream come true."