Boardman church program focuses on acts of kindness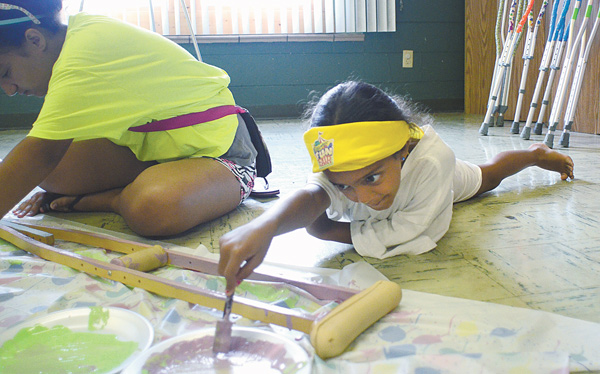 ---

Photo
Layla Hassen , 8, helps paint a crutch during vacation Bible school this week at Disciples Christian Church in Boardman. The church's VBS focused on performing acts of kindness for neighbors near and far.
By LINDA M. LINONIS
BOARDMAN
Children in the vacation Bible school at Disciples Christian Church are performing acts of kindness, reaching locally and abroad, as part of the program this week.
Elizabeth John, youth director at the church at 565 Boardman-Canfield Road, said kindness is carried out through hands-on projects involving the children, who range in age from 3 years old to fifth grade.
She said the overall focus of the vacation Bible school, which attracted 18 children, was on kindness and being friendly to neighbors, locally and globally. The theme is "Everywhere Fun Fair — Where God's World Comes Together."
On Monday, the youngsters baked cookies for Boardman police and fire departments as a way to say thanks for their service.
The big global mission of kindness project is one John saw online and thought would be both fun and helpful.
The website, www.randomkid.org, bills itself as the "place where any random kid can solve real-world problems." It offers suggestions about various projects and guidance on how to execute them.
John picked the crutches to Haiti project on the website that also lists toy libraries for orphans, renewable energy, living green, water crisis, growing food for the homeless, tributes to American war veterans, cellphone minutes for soldiers, service dogs for soldiers, children's fitness and animal shelters.
Last year, the VBS focused on raising money to buy mosquito netting for a malaria project in Africa.
This year, John reached out to the congregation and friends for donations.
The children will paint and decorate 26 sets of crutches and seven canes; they're both wooden and metal.
With help from teen volunteers, the children are painting the wooden crutches and canes in various colors and adding designs.
For the metal ones, colorful duct tape is being used.
Though the earthquake in Haiti was in 2010, there still is a need for crutches and canes for those who were injured, John said.
John said she will ship the painted crutches and canes to Florida, where a missionary who works with RandomKid projects, will take them on to Haiti.
John said though the project itself is fun and creative for the children, she is talking to them about how "need is everywhere" and how this project "is one way that they can help out."
Also this week, the children are making cards for servicemen and women as another act of kindness.