Cox's fastball sends Creekside into today's final round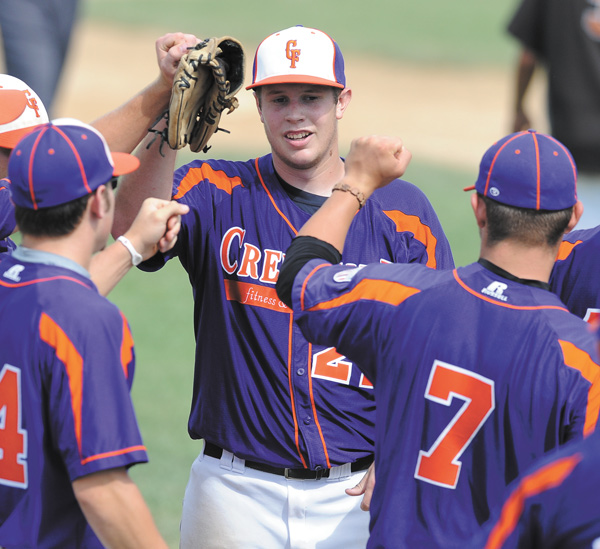 ---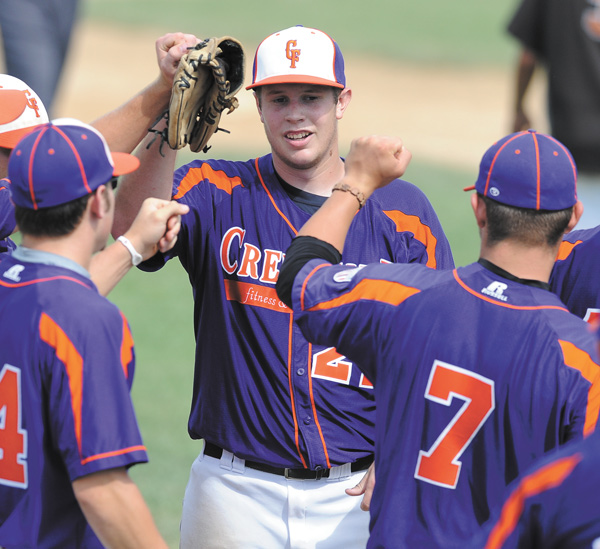 Photo
Creekside Fitness pitcher Seth Cox is congratulated by teammates, including Kyle Wise (24), left, and Dan Ferguson (7), after pitching a one-hit shutout against the Ohio Longhorns during their Connie Mack tournament game Wednesday at Cene Park in Struthers. The 5-0 win propelled Creekside into today's final round, along with SBA Aces and Diamond Boys.
By Ryan Buck
STRUTHERS
Creekside Fitness starting pitcher Seth Cox offered the Ohio Longhorns no relief from Wednesday's brutal mid-day heat once they stepped into the Cene Park batter's box.
His fastball only made things worse.
Cox, who was just added to Creekside's roster from the Ohio Glaciers for tournament play, overcame the sweltering temperatures and cooled off the Ohio Longhorns in a complete game one-hitter.
With a 5-0, win, Creekside advanced to the final round of the American Amateur Baseball Classic Connie Mack State Tournament.
Creekside is one of the three teams remaining after methodically dispatching the Longhorns, who were the only unbeaten team entering Wednesday's action.
"We played good ball today," Creekside manager Terry Landis said. "That was a good team, but our pitcher was on. He threw smoke, he made his off-speed pitches and he kept them off-balance."
Cox retired nine of the first 10 Longhorns batters he faced, with a first inning hit-batsman his only blemish.
"Pretty much everything was working," said Cox, an East Liverpool graduate bound for Lakeland Community College. "The change-up was real good and I was able to set that up with the fastball."
Temperatures were pushing triple digits within the Cene Park confines, but Cox persevered.
"It was tough, but in a game like this you need to win it," Cox said. "You can't really think about [the heat]."
Cox's counterpart, Cody Edwards, matched him pitch-for-pitch for the first three innings.
But after one trip through the order, Creekside's offense adjusted in the fourth inning.
Jared Wiesen singled to lead-off the inning, then Dan Ferguson smashed a triple to score him from first to give Creekside a 1-0 lead.
Two batters later, Tyler Walters followed suit with a triple of his own to score Ferguson. Walters came home on an RBI groundout by Zach Miller for a 3-0 lead.
"Everybody was [swinging] out on their front foot," Landis said. "[Edwards] was slow and he threw a lot of junk. We told them to sit back and drive the ball and that's when we started hitting."
The following inning, Ferguson, a standout for Mineral Ridge, doubled home two runners with a towering shot to left field to break the game open.
The Longhorns, a team based out of the Akron-Canton area, felt Ferguson's wrath in the same way his Youngstown Class B opponents had during their regular season.
Normally Creekside's starting catcher, the Class B league's leading hitter was battling a hand injury.
"He got spiked the other day and that's why he didn't catch today," Landis said of Ferguson's turn in the designated hitter role. "He pounded the ball today.
"He's one of my best hitters and our long-ball hitter."
Run support only aided Cox's performance, highlighted by 11 strikeouts.
"I knew it was going to come sooner or later, but once I got it, I calmed down a little bit," Cox said. "I could go out there and pitch my game."
He struck out the side in the sixth inning and lost a no-hitter by way of an infield single from Kyle Karaffa with one out in the seventh inning.
Creekside, SBA Aces and Diamond Boys (Solon) will play single elimination games today at Cene Park to determine the tournament champion and who will move on to this weekend's Connie Mack Regional tournament in Battle Creek, Mich.