118th Mount Carmel fest opens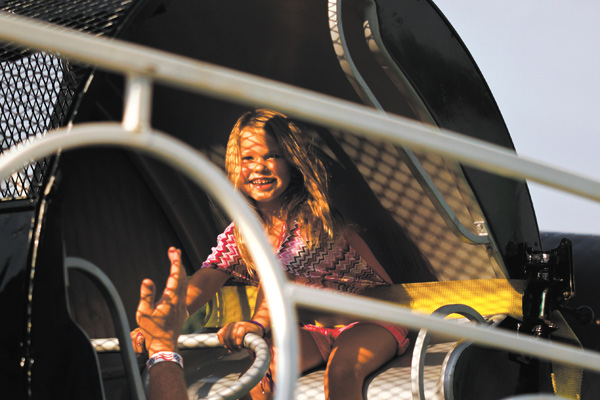 ---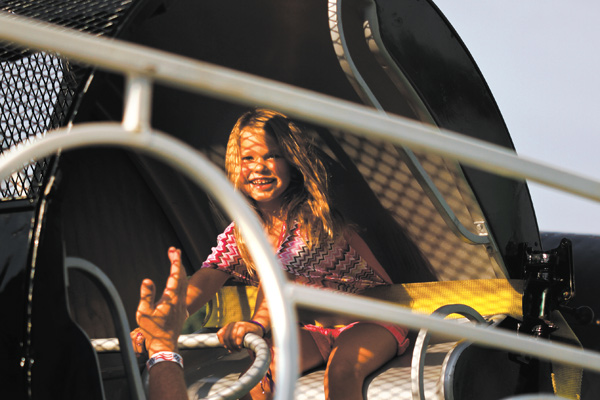 Photo
Jadalyn Rose Hollobaugh, 5, rides a carnival ride at the Mount Carmel Society Festival in Lowellville on Wednesday. The festival, now in its 118th year, opened Wednesday and will run through Saturday.
By EMMALEE C. TORISK
etorisk@vindy.com
LOWELLVILLE
Born and raised in Lowellville, Rocco Nolfi has grown up around the Mount Carmel Society Festival, which began its 118th year Wednesday evening.
And though it was Nolfi's first year as commissioner of the Mount Carmel Bocce Association, the state's oldest fraternal organization is in his blood — his great-great-grandfather, Pietro Pirone, started the Mount Carmel Society in 1895.
"It's one of the most-unique festivals that are still around, unless you're in Italy. We want to keep the tradition going that our
ancestors brought over from Italy. We experienced it, and now, our kids can experience it," Nolfi said.
"It's a great first night for the festival, and I'm looking forward to the next couple of days."
The festival will continue through Saturday, opening each day at 6 p.m., and will feature bocce and morra tournaments, Italian food, rides, games and music by both Steve Fazzini and the Mount Carmel Society Band.
In addition, the Baby Doll Dance, which features a hollow 15-foot papier-mache doll from which fireworks shoot, will begin at 11 p.m. on Thursday and Friday.
The dance, a tradition from southern Italy that supposedly brought in good luck for the coming year, is a favorite of Bob Pallozzi, vice president of the Mount Carmel Society.
"I just think it's one of the most unique things you'll ever see," he said.
At 11:30 p.m. Saturday, a fireworks display by Zambelli Fireworks, which has put on the fireworks show for more than 50 years, will close this year's festival.
Pallozzi added that between 25,000 and 30,000 people typically attend the festival over the four days. In fact, "the nice crowd coming in" on Wednesday's opening night might have been even bigger than in past years, he said.
"It's a great festival," he said. "We've got everything here."
Plus, everybody comes home for the festival, said Mary Mascarella, who belongs to the Mount Carmel Society Ladies Club. It's practically a family reunion, and one that keeps her coming back, year after year.
"Growing up, we thought this was a national holiday," Mascarella said. "We're very proud of our heritage."