Baird bounces Kuboff at Connie Mack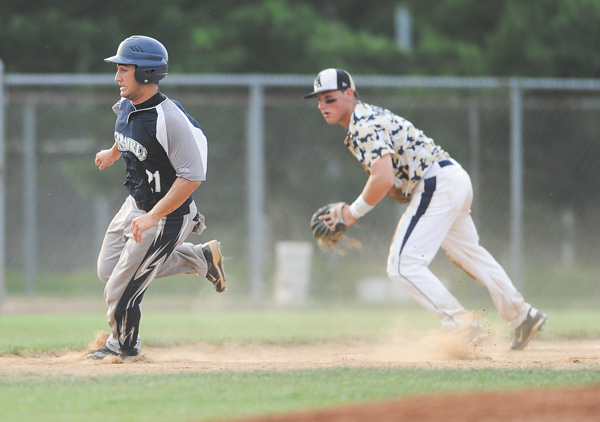 ---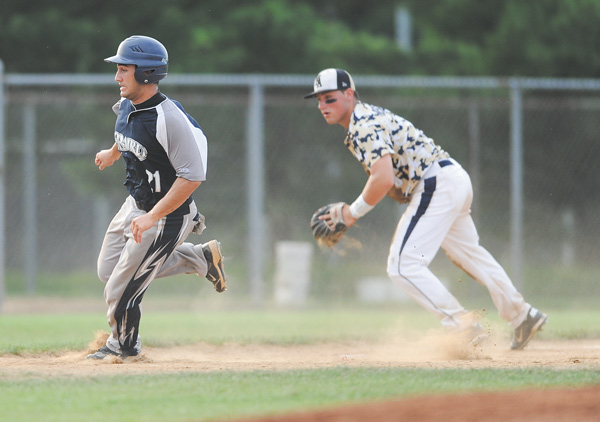 Photo
Baird Brothers' Alec Hammond, left, rounds third base to score a run in top of the third inning Tuesday night in a Connie Mack State Tournament at Cene park. Kuboff & Associates third baseman Cam Balego is at right.
By Ryan Buck
Struthers
Brandon Kish had his cake Tuesday night and he ate it, too.
On his birthday, Kish went 2-for-3 with an RBI and scored the go-ahead run in the top of the sixth inning as Baird Brothers knocked off Kuboff & Associates 5-4 in the third round of the 51st annual American Amateur Baseball Congress Connie Mack State Tournament at Cene Park.
"It's been pretty sweet playing baseball all day," Kish said as he waited for Baird's fourth-round game to begin immediately afterward.
From his designated hitter spot, Kish, of Struthers, gave Baird a 2-0 lead in the top of the second with a run-scoring single up the middle. Dom Pape scored on the play after advancing to third base on a balk that sent John Mudrinich home.
Kuboff got on the board in the bottom half of the inning when Alex Fitzgerald drove home Sabatino Dinardo with a single to right-center field.
Baird added two more runs in the third to take a 4-1 lead on their Youngstown Class B league foes. With two outs, Mudrinich singled and scored on a single from Pape. Alec Hammond, who reached base on a walk, scored Baird's fourth run on a Mitch Robinson double.
"Against that team, you always have to have a lead because they have good hitters and they battle back," said Baird manager Cliff Phillips.
It wasn't the Kuboff bats that did the damage, but Baird's own self-inflicted damage.
Baird starter TJ Jones walked Dion Felger, Fitzgerald and Alex Greathouse. Three wild pitches later, Felger and Fitzgerald runs brought Kuboff to within one run.
"It was the wild pitches," said Kuboff manager Don Pletcher. "It wasn't the hitting. It was them running back in it and tonight was just an ugly game. We just didn't play ball."
Despite their woes at the plate, they managed to tie the game in the fifth. With two outs, Felger singled to right to score Mitch Machi from third. Their two-out rally ended there as Felger and Joel Hake were stranded on second and third.
"We haven't been hitting with guys in scoring position lately," Pletcher said. "We had guys on base two or three times tonight and we just needed one crack and just couldn't get it."
In the top of the sixth, Kish gave himself a late birthday gift. He drove a single up the middle, advanced to third on a Zach Thorpe double and came home when Kyle Harris flew out to center with one out.
"We just wanted to get runners on base then take the lead," Kish said. "That's all we wanted to do."
Kuboff threatened to ruin the fun in the bottom half of the inning, but it was Harris, a junior at Girard, who blew out the candles on Kuboff.
With two outs, Cam Balego headed for home on Machi's single to right. Harris' pinpoint throw from right beat him there as Balego threw up his arms to knock the ball out of Robinson's mitt and appeared to score the tying run.
Balego was called out to preserve the one-run Baird lead and eventual victory.
"The throw was on line and about as good as you can do," Phillips said.
The umpires made no hesitation in calling Balego out.
"He's not allowed to bowl him over, which he didn't," Pletcher said. "He did not have a lane to go to. The catcher came up the line. There was contact — body to the glove — and that was it and the ball came out. The umpires are great here and in his opinion, he bowled him over and I respect that because we've got the best umpires in the world down here."