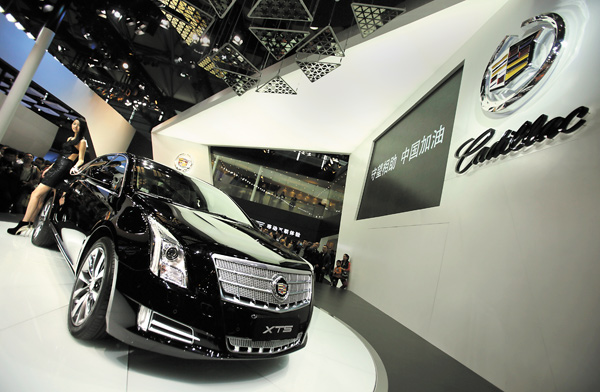 ---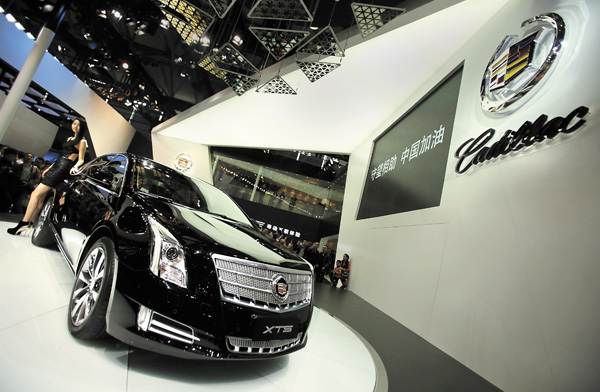 Photo
In this April 21 photo, a model poses with a Cadillac XTS displayed at the Shanghai International Automobile Industry Exhibition in Shanghai, China. General Motors' global sales grew almost 4 percent in the first half of the year, enough to fend off Volkswagen to keep second place and perhaps bring the Detroit company closer to sales leader Toyota, according to GM on Tuesday.
Associated Press
DETROIT
General Motors' global sales grew almost 4 percent in the first half of the year, enough to fend off Volkswagen for second place and perhaps close the gap with sales leader Toyota.
GM said Tuesday that it sold 4.85 million cars and trucks worldwide from January through June. That puts GM on pace for sales of about 9.7 million for the year.
The Detroit automaker sold 9.3 million cars and trucks last year, about 450,000 less than Toyota Motor Corp. GM may have gained some ground on its Japanese rival this year by growing faster in the U.S., the world's second-biggest car market.
GM's first-half U.S. sales rose by 8.7 percent to 1.4 million, while Toyota's sales grew by 6.7 percent to 1.1 million, according to Autodata Corp. Toyota is expected to release global-sales figures later this month.
Also, Toyota sales faltered in China during the first half because of a resurgence of anti-Japanese sentiment there due to a territorial spat over some tiny islands. GM's first-half sales in China, its largest market, rose almost 11 percent to 1.57 million vehicles, the company said.
Toyota has a clear lead in its home market of Japan, the fourth-largest auto market in the world, where competition from foreign brands is limited.
At the end of the first quarter, Toyota, which sells the Toyota, Lexus and Scion brands, held a slim global- sales lead of 65,000 vehicles over GM.
Toyota and GM executives often say they don't care who wins the global-sales race, and that growing profits is more important. But privately, they like to win the race because it's good for employee morale and national flag-waving.
GM was the top-selling carmaker for seven decades before losing the title to Toyota in 2008. GM retook the crown in 2011 when Toyota's factories were slowed by an earthquake and tsunami in Japan, leaving the company with few cars to sell. Toyota has since recovered.
General Motors Co. said that its global market share rose 0.1 percent in the first half to 11.5 percent. GM's international operations were the biggest contributor, growing 7 percent to just over 1.9 million vehicles. International Operations include the Asia-Pacific, Africa and Middle East regions. North America was in second place with sales up 7.7 percent to just over 1.6 million.
But those gains were offset somewhat by a 6.5 percent drop in Europe, which is mired in recession, and a 1 percent decline in South America.
GM has multiple brands including Chevrolet, Cadillac, Baojun, Buick, GMC, Holden, Jiefang, Opel, Vauxhall and Wuling.