Drug-testing of athletes to start this fall in Struthers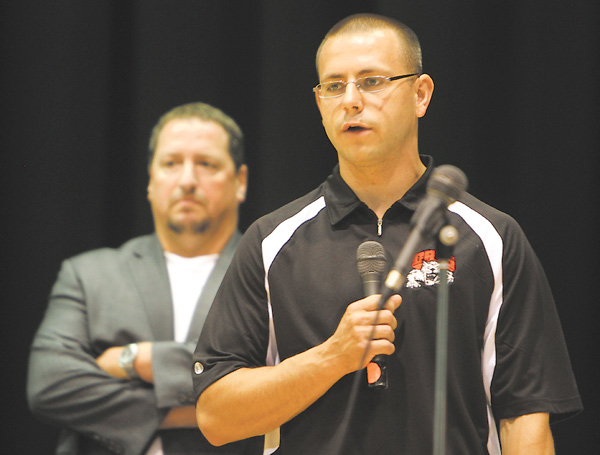 ---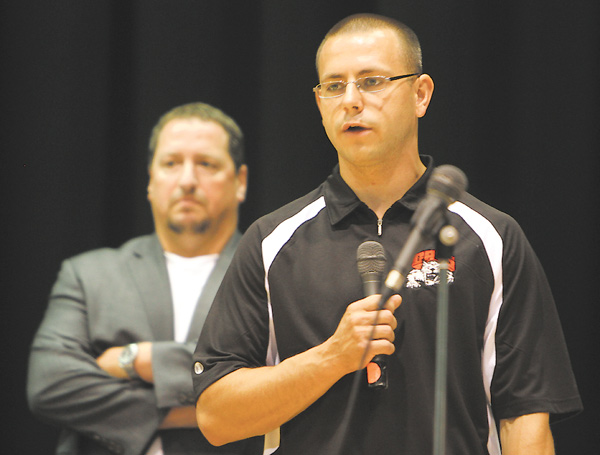 Photo
D.J. Aldish, school resource officer for the Struthers City School District, speaks during Tuesday's Struthers Board of Education meeting about a policy to test student athletes in grades seven through 12 for drugs. At left is Superintendent Joseph Nohra.
By EMMALEE C. TORISK
etorisk@vindy.com
STRUTHERS
Beginning this fall, Struthers City Schools will implement mandatory drug testing for all student athletes in grades seven through 12.
The board of education approved the drug-testing policy as an appendix to the existing athletic department handbook at its regular meeting Tuesday, which also functioned as an open forum for community members.
"It was a long conversation, but I'm very happy that the board took a step forward," said schools Superintendent Joseph Nohra, who added that the district will not incur any cost for the drug testing. "It's for the health and well-being of our kids."
Under the new policy, all students involved with any athletic extracurricular programs, including cheerleading, will be drug-tested through the Toledo-based Great Lakes Biomedical within the first two weeks of their respective seasons.
Following this initial test, student athletes will then be placed in a pool for random testing, which will be done throughout the season. This random pool could consist of up to 100 percent of a team's eligible students, and a student could be tested more than once per season, Nohra said.

If a positive, or non-negative, test occurs, the student will not be penalized academically, nor will the results be documented in the student's academic records. Instead, disciplinary action will follow the athletic department handbook's current policies.
This mandatory testing requires the informed consent of both the student and his or her parent or guardian, along with a $20 upfront fee. If a student plays a second sport, he or she will pay an extra $10, although playing a third sport will not warrant another fee.
"If you played eight sports after that, it would never exceed $30," said DJ Aldish, the district's school resource officer.
Nohra added that because participation in sports is optional, students would not qualify for drug-testing fee waivers or reductions. However, he said that financial hardships would be "screened through the administration and coaching staff who would try to help" with the cost, potentially through fundraising efforts.
Members of the district's drug-testing committee proposed the policy for student athletes at a special board meeting in May, but had been discussing the feasibility and cost of incorporating drug-testing into the athletic program for almost seven months, Nohra said.
Michael Cox, a Youngstown police officer and Struthers resident, said drug addiction isn't just a local problem, it's a national epidemic. He doesn't know anybody who hasn't been negatively affected by drugs, and said that implementing a drug-testing policy is "the best thing" for the district.
"We're not trying to catch or punish a kid," he said. "We just want the best for them."
Jody Evinsky, who attended the meeting with her daughter Emily, a soon-to-be seventh-grader at Struthers Middle School, said she's glad the district is "being proactive, rather than waiting for a tragedy to occur."
Emily agreed, explaining that she wouldn't want to cheer or play basketball with someone using drugs or alcohol.
"It's good," she said, referring to the policy. "If [a teammate] drinks or gets high right before a game, it could affect the team — and them."